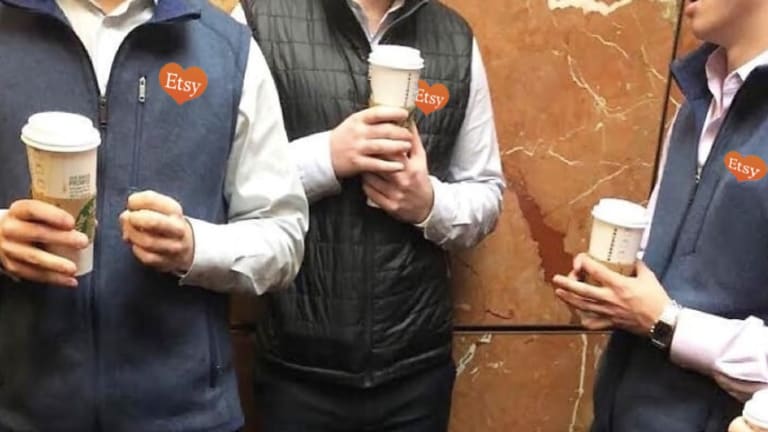 Opening Bell 4.4.19
But how will New Yorkers identify douchebags in the wild?
Start your day with the Opening Bell powered by The Water Coolest. The Water Coolest is the preferred bathroom stall reading material of finance professionals. Sign up for the free daily newsletter.
FULLY VESTED
What's the perfect piece of clothing for when your arms are warm, your torso is cold, and you're ready to move size? You guessed it: the Patagonia vest.
Brads, Chads, and wanna-be Wall Street bros everywhere may have to search for a new uniform as Patagonia announced that it is cracking down on placing corporate logos on its vests through its corporate sales program.
Patagonia updated its mission statement last year to 'We're in business to save our home planet.' In line with that mission, the crunchy clothiers intend to do business with more B-Corp companies, which are businesses that meet certain environmental and social standards and are focused on building a more inclusive and sustainable economy.
Don't fret too much, as existing corporate customers will remain in its program and be able to order more branded gear. The company has not officially announced when these changes will go in place, but oil, mining, political organizations need not apply.
Silicon Valley, Wall Street set may need a new favorite uniform, as Patagonia shifts policy on its famous fleece  [CNBC]
IN OTHER NEWS
- Goldman is going to let nerds tinker with its trading engine
- Carlos Ghosn's sorry ass just got arrested again
- Deutsche Bank isn't a big fan of Uncle Sam and his strict anti-money laundering rules
Sign up to receive The Water Coolest. Blue-chip daily business news delivered to your inbox every AM.