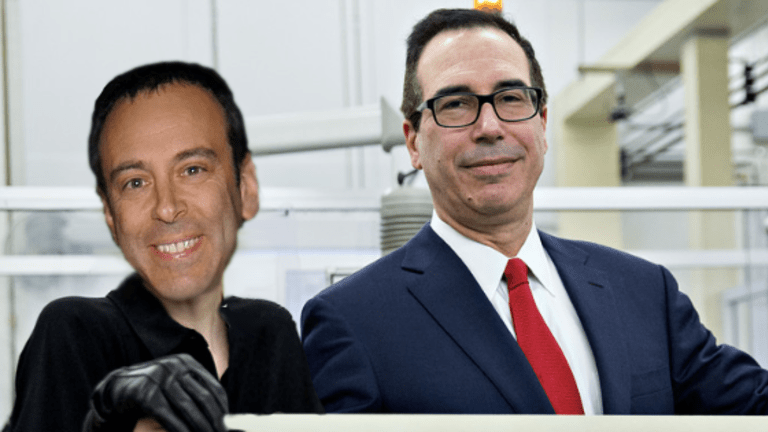 Vestigial Remnant Of Sears Sues Eddie Lampert And Steve Mnuchin For Merely Being Themselves
This is how the fable would end if the turtle survived and lawyered up on the scorpion.
Sure, Eddie Lampert's slow and cruel crusade to bleed Sears into oblivion has been fun to watch but not everyone can enjoy life's simple pleasures as we can, so now there's litigation:
Sears Holding Corp. sued Eddie Lampert, his hedge fund ESL Investment Inc. and directors of ESL and Sears, accusing them of siphoning off billions of dollars worth of assets as the retailer racked up huge losses.

The lawsuit, filed by the bankruptcy team winding down what is left of the company after Mr. Lampert's recent purchase of Sears stores, alleges the hedge-fund manager and the fund's board directed executives at the retailer to produce rosy financial projections for a big turnaround even as it accumulated more than $7 billion in losses from 2011 to 2014.

The suit contends the bad-faith financial projections paved the way for the transfer of assets worth over $2 billion to Mr. Lampert and other ESL directors, including Lands' End Inc. and Sears Hometown Outlet Inc., among others.
Essentially, the lawsuit alleges that Eddie Lampert did what we all assume we just spent years watching Eddie Lampert do but with way more details. Oh, and also we have a pretty special guest star:
In addition to Mr. Lampert, the lawsuit names as defendants U.S. Treasury Secretary Steven Mnuchin, who was formerly an executive at ESL...
Lampert and Mnuchin being sued for predatory financial behavior? Next thing we'll hear is that Nic Cage is being arraigned for making movies that aren't good.
Considering that Steve Mnuchin has spent his whole life getting away with shit (he even somehow managed one innocuous mention in the first volume of the redacted Mueller Report), we feel pretty good about Lampert's odds here. You can't sue Steve Mnuchin for being his true self. The man is the Zelig of gray area financial malfeasance since 1990. And Eddie Lampert has been his wingman since they lived together in a luxury off-campus apartment while attending Yale, where they joined Skull & Bones and drove Porsches. In fact, if you look at video of Mnuchin's January 2017 confirmation hearing, seated directly behind the mouthbreathing nominee are his wife, some administration aides, and Eddie Lampert.
And let's put that timeline in perspective. In January 2017, Sears was very publicly known to be in rather deep, deep shit, and [other than the internet] Lampert was widely considered to be the biggest problem plaguing America's totemic retailer. Weeks later, Lampert would acknowledge to shareholders that things were real, real bad, and about a year later the company would pop its bankruptcy filing cherry. So it's fair to assume that in January of 2017, Lampert knew that things at Sears were a total mess, and that Mnuchin - as Sears' former chairman and Eddie's ride-or-die homie - knew the situation as well. Yet both men thought that it would be totally cool if the guy who was about to the face of Sears' death sat behind the incoming Treasury Secretary at his Senate hearing. Consider the hubris here, and behold true masters of the craft. 
Lampert and Mnuchin have spent their entire adult lives doing exactly what was done to Sears, and so far it's turned out great. It's very easy to argue that Sears was unsalvagable before Eddie Lampert got his hands on it, but it's even easier to argue that he hastened the company's demise for his own profit. But the easiest argument in the world to make is that this is what guys like Eddie Lampert and his buddy Steve Mnuchin do, and that no one has figured out how to stop them. 
We would be shocked and enthralled if this lawsuit changed any of that. 
Sears Sues Ex-CEO Eddie Lampert, Claiming He Stripped Assets and Left It Broke [WSJ]