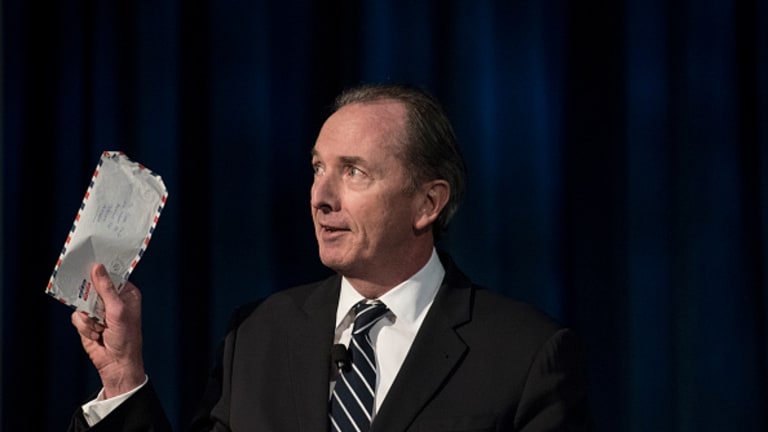 Morgan '#metoo' Stanley Has A Potential Future Female CEO, Too, Now, Guys
Marianne Lake is not impressed.
Everyone knows that Marianne Lake will become the first female CEO of a major U.S. bank when Jamie Dimon takes the oath of office in January 2021. This has the other guys scrambling to keep up with JPMC. Goldman Sachs brought Dina Powell back on board and may even give her the top job if DJ D-Sol keeps screwing up and she shaves her head. Citigroup made its statement by bidding farewell to an old white dude widely seen as a frontrunner to succeed the current old white dude. The only bank with a current vacancy at the helm, Wells Fargo, is actively looking to give the job to a woman, although it's both unlikely that one will take it, and that Wells can really be considered a major bank anymore.
This brings us to Morgan Stanley. The House of Gorman made a nod to the fairer sex earlier this year, promoting Susie Huang to co-head of investment banking. But that was mostly a result of Franck Petitgas' vacating that role for a more elevated one as head of international business and co-heir apparent alongside Ted Pick. Plus, Morgan Stanley's gotten a bit of a bad rap when it comes to the ladies, so it's time for the bank to pretend someone without a penis might take over if Jim Gorman can't fix this shit.
Shelley O'Connor, who co-heads the firm's wealth-management division, will give up that role and become chief executive of its two regulated bank entities, where it is pushing mortgages, deposit accounts and other Main Street products, Mr. Gorman said in a memo to staff Tuesday that was reviewed by The Wall Street Journal…. She is the only woman atop a major business line at the firm.
Auditions for Morgan Stanley's No. 2 Job Start With Wealth-Management, Banking Shuffle [WSJ]