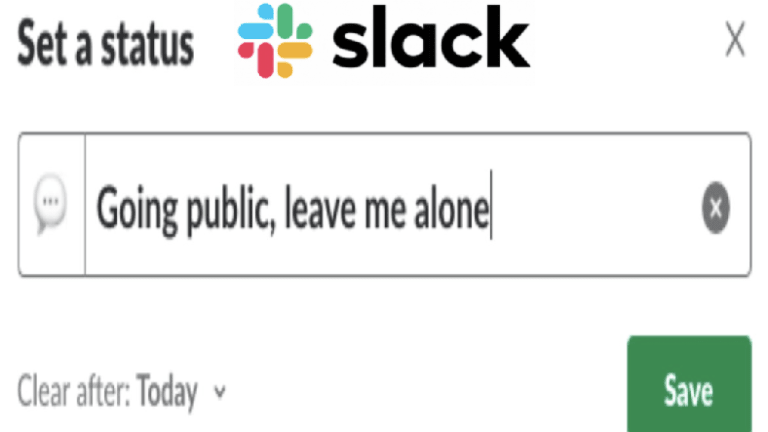 Slack Hoping That Net Losses In The Low Nine-Figures Are Big Enough To Appeal To Modern Retail Investors
Can you attract a crowd these days by direct listing without losing billions of dollars a year? Slack wants to find out.
We're not saying that we're hovering near the top of a cycle here, but...
Slack released its S-1 Friday, making it the latest in a highly-anticipated class of tech companies to file to go public. Slack will pursue a direct listing on the New York Stock Exchange under the symbol "SK."

For the year ended Jan. 31, 2019, Slack reported $400.55 million in revenue. Slack reported a net loss of $138.9 million for the same period. The company reported about $841 million in cash equivalents as of Jan. 31, 2019.
Our first reaction to this was "Only $140 million? Boooooring." 
We've become accustomed to a certain level of batshit financial reasoning from tech companies going public these days. So it's hard to get excited over a paltry nine-figure net annual loss with all the billion dollar losers out here trying to justify massive valuations. Slack is cool, but should we be concerned that it can't lose more money? And how cool is it if it doesn't want to pay Goldman Sachs to take it around and convince The Street how cool it is? These direct listings seem a little too austere for our contemporary tastes.
In fairness, a quick perusal of Slack's S-1 filing does make us a little more comfortable. In addition to the now-compulsory "emerging growth company" stuff, we have about 50 pages of risk factors and the thing that makes us feel most at home in a filing these days:
"We have two classes of common stock, Class A common stock and Class B common stock. The rights of holders of Class A common stock and Class B common stock are identical, except voting and conversion rights."
It would be unsettling at this point to see a money-hemorrhaging company go public without a stock structure that prevents investors from having a say in forcing the said company to change in a way that would create, like, profits.
So we don't know how to feel about Slack. It seems to be making many of the bad decisions that we love, but it's also making some rather maddeningly logical ones, and it's just not losing enough money. We get that the business models are slightly different, but we can't help staring at that -$138.9 million figure and think "$140 million? Uber can lose $140 million in a single afternoon."
Buy, again, we're not saying anything about being at the top of a cycle.
Slack releases its financials for the first time as it prepares to go public [CNBC]