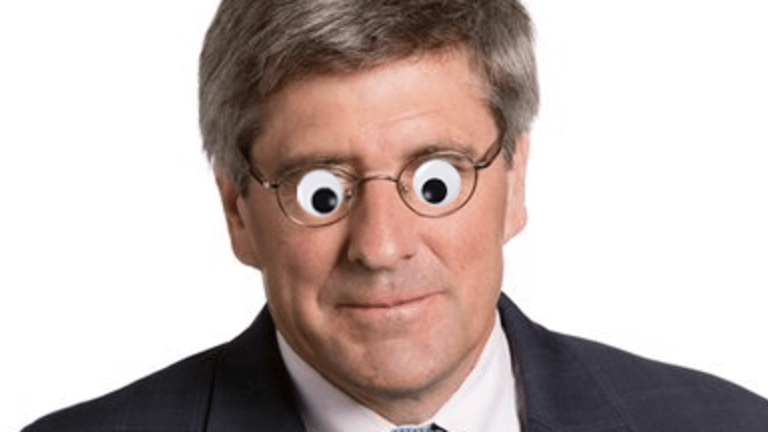 Stephen Moore Manages To Open Mouth And Not Shoot Himself In The Dick
He might as well just take his seat on the Fed right now.
Even set to the almost invisibly low standard of "more credible as a potential Federal Reserve governor than Herman Cain," Stephen Moore hasn't done so well. Is he a wildly unqualified partisan political hack whose sole job is to kneecap the central bank's independence? Of course, but incompetence and total ignorance of subject matter are rather seen as prerequisites for appointment by the current administration. No, Stephen Moore's problem is that, whenever he opens his mouth, he says things like, "I have no idea what the Fed does," or, "I definitely did not say the things you say I said, oh, wait, I did? OK, well, then, I definitely didn't mean them, or don't mean them anymore, hey why are you being so mean to me?" And that's before you take into account the fact that they guy doesn't know how to pay his taxes, and has been writing a lot of stupid things for a very long time, and when confronted with those things (some of which were written a whole five years ago; for a man who won't even stand behind the things he said in support of the man who wants to put him on the Fed all of three years ago, that is practically ancient history), responds by whining about how unfair it is to be confronted by things he has written down and successfully submitted for publication.
Mr. Moore said his critics are "pulling a Kavanaugh against me…."

"I was so honored when I got the call from Donald Trump," Mr. Moore said on the radio program. "But you know, all it's been since then is one personal assault after another, a kind of character assassination that has nothing to do with economics.
I'm not sure why Moore would think that being "Kavanaughed" is all that bad a thing. After all, last I checked Brett Kavanaugh is currently sitting on the U.S. Supreme Court in spite of credible accusations far more serious than those again Moore, or even Cain. Still, in spite of the success of Kavanaugh's strategy of loud, snarling indignation, Moore is pivoting to a lower-energy, more obsequious emo defense strategy.
"I want to help make America the most prosperous place in the world," Mr. Moore said Wednesday in an interview, adding, "I'm totally committed to it as long as the White House is totally committed to it…."

He added he would back down "if something I said or something I've done becomes a political problem" for the White House or Senate Republicans, particularly those facing reelection in 2020.

"I don't want to be a liability," he said. "Why should we risk a Senate seat for a Federal Reserve board person, you know? I mean that just doesn't make any sense."
That is the most sensible thing Moore has said in decades. If he's able to keep this up he's a shoo-in.
Moore Hopeful for Fed Post, but Says He Would Bow Out If He Becomes Liability [WSJ]
Stephen Moore's Columns Deriding Women Raise New Questions for Trump Fed Pick [NYT]