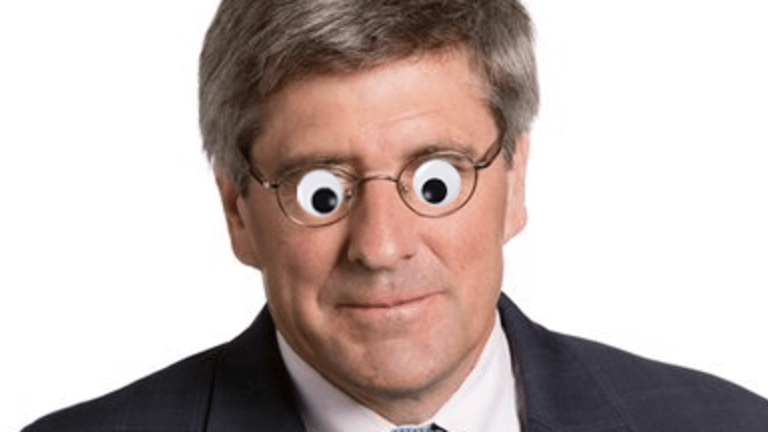 Maybe Herman Cain Was Trump's Better Fed Nominee
Whenever Stephen Moore opens his mouth or picks up a pen, his prospects darken.
Herman Cain may be too poor to serve his country, unable to count to nine and a bit handsy. This led many, including yours truly, to suspect that he was perhaps a diversionary tactic to help smooth the Federal Reserve candidacy of Stephen Moore, the true ideologue that President Trump and Larry Kudlow actually want to help kneecap the central bank's independence. But what if we had it the wrong way around? Or what if (perish the thought) there was no grand plan and the president just tweets out top nominations as soon as they flit into his head, with no consideration of how one interacts with the other? It seems possible, because while Cain denies the allegations against him, indicating that, at the very least, he knows they are publicly unacceptable, Stephen Moore isn't so sure.
You now have to get verbal permission from the woman at each stage of courtship — i.e., "May I kiss you?" This may seem to take the allure and spontaneity out of a relationship, but better to ask than risk a lawsuit…. Colleges are places for rabble-rousing. For men to lose their boyhood innocence. To do stupid things. To stay out way too late drinking. To chase skirts. (At the University of Illinois, we used to say that the best thing about Sunday nights was sleeping alone.) It's all a time-tested rite of passage into adulthood. And the women seemed to survive just fine. If they were so oppressed and offended by drunken, lustful frat boys, why is it that on Friday nights they showed up in droves in tight skirts to the keg parties?
And having a good laugh in defense of rape culture is just Stephen Moore warming up.
Mr. Moore, in a column reprinted in The Ottawa Citizen in 1998, complained about coed youth soccer games, which he called "a giant social experiment imposed upon us by the geniuses that have put women in combat in the military…."
Here he is on why women should earn less than men: If they don't, we'll all turn into the blacks.
"What are the implications of a society in which women earn more than men?" he wrote. "We don't really know, but it could be disruptive to family stability. If men aren't the breadwinners, will women regard them as economically expendable? We saw what happened to family structure in low-income and black households when a welfare check took the place of a father's paycheck. Divorce rates go up when men lose their jobs."
Here he is on the most important thing to be done about the N.C.A.A. tournament. (Nope, it's not paying the players.)
Here's the rule change I propose: No more women refs, no women announcers, no women beer venders, no women anything. There is, of course, an exception to this rule. Women are permitted to participate, if and only if, they look like Bonnie Bernstein. The fact that Bonnie knows nothing about basketball is entirely irrelevant.
What say you about this, Mr. Moore, this being the things you have written down and successfully submitted for publication?
Mr. Moore said his critics are "pulling a Kavanaugh against me…."

"I was so honored when I got the call from Donald Trump," Mr. Moore said on the radio program. "But you know, all it's been since then is one personal assault after another, a kind of character assassination that has nothing to do with economics.
Yes, it is very unfair to be tarred with things you wrote five years ago, just as it is to be confronted with things you said campaigning in support of the man who proposes to put you on the Federal Reserve all the way back in 2016. On the other hand, last I checked credibly accused rapist Brett Kavanaugh is sitting on the U.S. Supreme Court, so what's so bad about having a "Kavanaugh" pulled against you? You'll be Fed chair in no time.
Stephen Moore's Columns Deriding Women Raise New Questions for Trump Fed Pick [NYT]
Excerpts of Stephen Moore's Writing: Bashing Women, Gay Rights and More [NYT]
Cain withdraws from Fed consideration, citing lower pay, influence [Reuters]