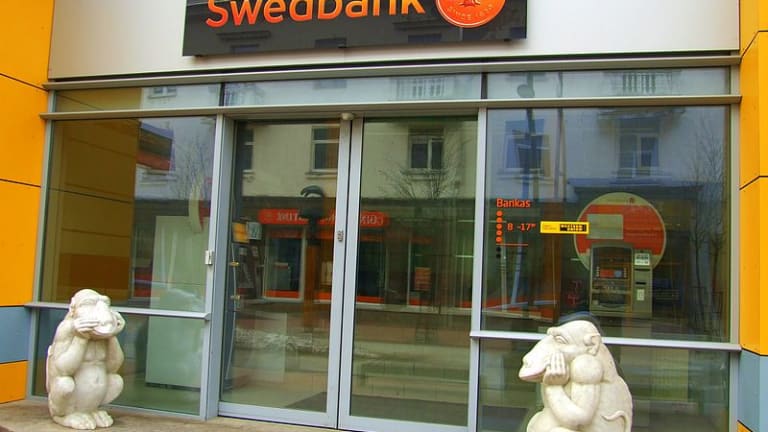 Something Is Rotten In The State Of Denmark (And Also Sweden)
I thought the Scandinavians were supposed to be the good guys?
So, uh, have guys noticed that something is amiss with those squeaky-clean socialists in Scandinavia, The New York Times wants to know? Specifically, those tall blond banker types who decided to take their talents to the former Soviet Union, which talents were apparently for money laundering? If not, allow us to catch you up a bit, because it's only a matter of time before some major Norwegian bank gets caught with its pants down and a Russian oligarch's money stuffed in its drawers. Who knows, maybe things even extend to Finland and Iceland? And has anyone checked what's going on under the glaciers of Greenland?
Anyway, things got started in Estonia by way of Denmark, for Danske Bank was allegedly doing a bit of money-laundering in the Baltic republic. Just how much, it wasn't sure, which makes for two things that Danske and Sweden's Swedbank have in common.
Swedbank AB, which dominates financial markets in the Baltic region, allegedly let about 95 billion kronor ($10.2 billion) in questionable flows move through its accounts between 2007 and 2015, according to Sweden's main television broadcaster, SVT, which cited a 2018 internal review by the bank.

The amount is more than double that reported by SVT less than a month ago.
This in Danske's case led to subpoenas and other unpleasant letters in the mail from regulatory and criminal authorities the whole world over, something Swedbank is now learning quite a bit about, and will learn quite a bit more if Bill Browder has his way, as he has with Danske.
Mr. Browder, the hedge-fund manager, has asked European authorities to look into potential criminal violations. He said in an interview Friday that he obtained data in recent years about suspicious transactions at Swedbank, in part, through separate criminal investigations across Europe into the death of Sergei Magnitsky, who died in 2009 while in Russian custody after he was detained on charges linked to fraud he uncovered.
Anyway, these are the sort of things that chairmen and CEOs rarely survive. Danske's certainly didn't, and now, neither have Swedbank's.
Swedbank AB has fired its chief executive officer, Birgitte Bonnesen, amid allegations the bank was used to launder billions of dollars in Russian money on her watch.
The chairman, Lars Idermark, departed less than a week after the bank fired its chief executive, Birgitte Bonnesen, who had previously supervised Swedbank's operations in the Baltic countries of Estonia, Lithuania and Latvia.
But don't blame them, really, even if both former CEOs actually oversaw the Estonian business before getting promoted, presumably because of the bang-up job they had done there. Blame the real culprits: The Americans.
Almost all big international banks, including Danske Bank and Swedbank, have subsidiaries in the United States that they use to process transactions in dollars. That gives federal and state investigators a legal foundation to travel far outside their borders. The Americans have done so aggressively….

The dominance of American investigators reflects the conflicted state of European enforcement. Responsibility rests primarily with national regulators, which often lack the resources and training to tackle money launderers or are unwilling to police big, politically connected lenders. Or they are prone to corruption themselves.
Perish the thought.
Why Scandinavian Banks' Clean Reputations Are Threatened by Dirty Money [NYT]
Swedbank Laundering Case Grows as $10 Billion Found in Review [Bloomberg]
Swedbank Fires CEO Over Money Laundering Allegations [Bloomberg]
Swedbank's Chairman Quits Amid Money-Laundering Scandal [NYT]
Hedge-Fund Manager Bill Browder Calls for Top Level Staffing Changes at Swedbank as Chairman Resigns [WSJ]