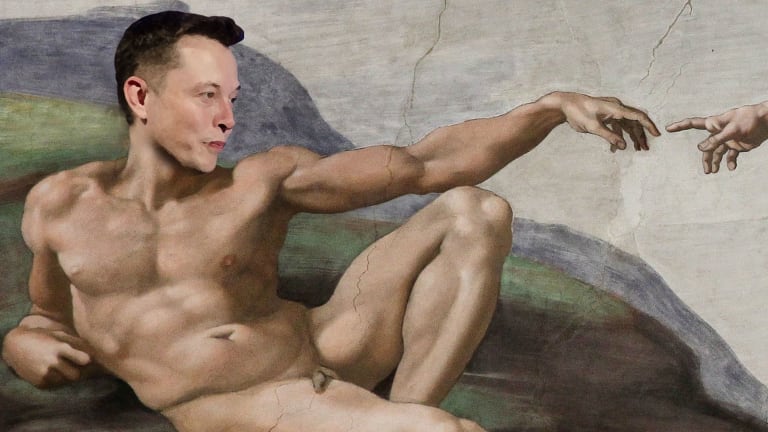 Since Selling Cars Is Not Working Out, Tesla Plans To Just Ask People For Money
Can someone hand Elon more cash to feed his money bonfire?
Well, this is the headline of 2019 so far: "Tesla says may seek alternative financing sources."
Oh, Reuters, you nasty.
Tesla Inc said on Monday it could seek alternative sources of financing although it expects cash generated from its business to be enough to fund its investments and pay down debt for at least the next 12 months.

Wall Street has been looking for more details after Chief Executive Officer Elon Musk suggested last week that a capital raise could be imminent as the electric vehicle maker posted a $700 million loss for the first quarter.
Tesla stock is doing a Hindenburg impression because the company still can't make cars and Elon Musk is agreeing to let a judge tell him what he can tweet about, like -- you know -- an adult.
And let's not forget that when Tesla did announce that deeply shitty quarter on Wednesday, Elon and his team somehow managed to do so more than an hour after the announced time, giving everyone ample time to mock Tesla's leadership and ruminate over just how bad things are over at The Church of Musk. Nothing about Tesla doesn't look like a buttfumble right now, and the fact that it publicly acknowledges it is about to spend more than it has is...a statement.
This is also a statement:
"There is some merit to raising capital," Musk said on an earnings conference call on Wednesday, after being asked why he had not done so yet. "It's probably about the right time."
Is it though?
Who would give Tesla money at this point? [Please put your hand down, Masa Son, we get the bit and we love it] Nothing right now would lead anyone to believe that throwing new capital investment at Tesla Motors Inc. would be anything other than giving Elon a brick of cash to throw on his money bonfire. Is there anyone capable of being a major source of funding that is also dumb enough to believe that Elon will stay in his lane? 
For example, Elon is more aware than ever that his Twitter account is something he needs to be careful with, yet while Tesla stock plummets and he admits that he needs a loan, this is what he chose to tweet this morning:
We love watching billionaires toy with their publicly-traded playthings, but Elon Musk is straining the barriers of credulity and taste at this point. There are rules to this batshit game, and the man who wants to be "Elon Musk" needs to stop being "ELON MUSK."
Good luck with the funding.