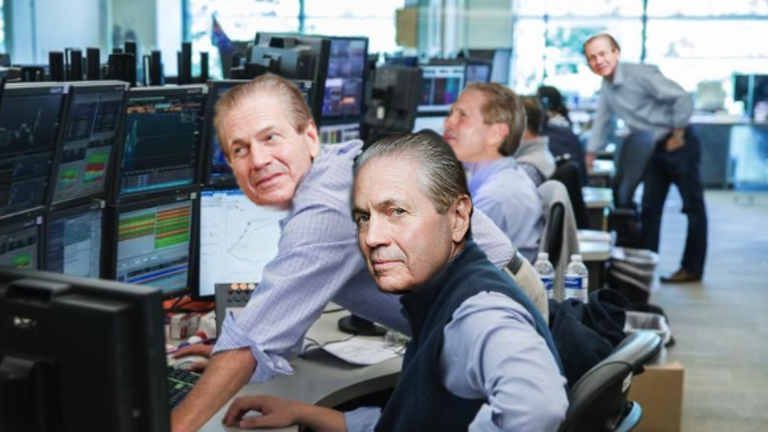 Tom Hill Is Suddenly The Ryan Seacrest Of The Quant Scene
The slickest senior in finance is adding another gig to his full schedule of cooling up the nerds.
J. Tomilson Hill left Blackstone roughly 15 months ago to begin what we assumed would be a very very comfortable retirement. 
After all, the guy who narrowly avoided Dick Fuld's fate only to end up building Blackstone's rather successful hedge fund business deserved some time to sit back and contemplate his amazing run of accretive karma. Hill is perhaps the last of the  80s Wall Street pinups, a living Tom Wolfe character with his natty suits, slicked-back hair and Upper East Side bona fides. The man is actually in Barbarians at the Gate for chrissakes. Cashing out of Blackstone at the dawn of a new uncertain era seemed like the perfect exit for a guy like Tom Hill.
But then we learned just the other day that Hill has decided to spend his dotage hanging out with the quants at Two Sigma, ostensibly bringing his old school Wall Street liquid charms to algo-jockeys in SoHo. We were surprised, not shocked, but definitely surprised.
However, we received a press release last night, and now we're shocked:
Crux Informatics, a leading data operations and delivery company, today announced that J. Tomilson Hill has joined its Board of Directors. This appointment adds significant asset management expertise and leadership as Crux further enhances its leading solution for better data flow in the financial services industry.
We're not saying that 70-year-old Tom Hill is doing too much, but we are saying that he might want to leave some jobs in quant trading for other people. We get that bringing on a living hedge fund encyclopedia like Tom Hill is good business for a new player like Crux, but we are wondering how many other jobs one septuagenarian wants.
Why not just sit back and collect art?  Maybe Hill is just gonna be one of those passive board members who just mumbles advice every now and then while waiting for the occasional check to clear...
Mr. Hill said, "a voluminous amount of data is flying at asset managers at a pace never before seen. As a result, firms are spending an incredible amount of time, resources and capital uncovering and cleaning data sets, and not enough time applying that data to make smart and differentiated investment decisions. Crux has an answer to that problem – a secure cloud platform with expert services that helps clients connect with on-demand, alpha-generating data. I look forward to working with Philip and the entire Crux team to continue building and scaling their offering, and ultimately, transforming the data industry."
Umm, homeboy sounds TURNT.
If you're a 24-year-old quant running trades on biotech or commodities, look to your left. Now look to your right. In a few weeks, most of the people around you will be Tom Hill.