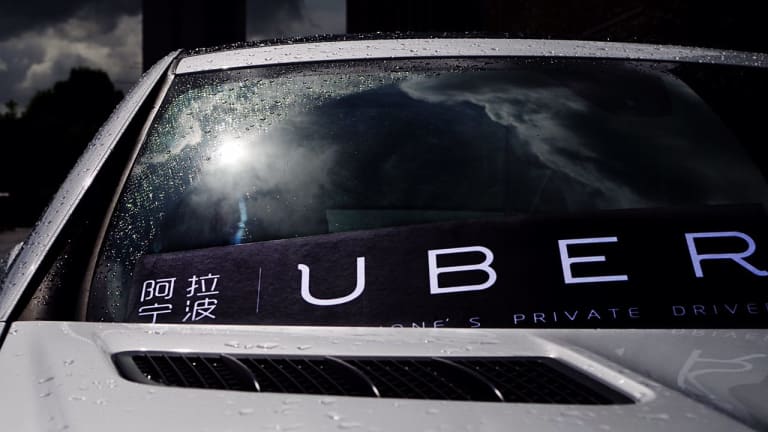 Uber's $100 Billion IPO Is The Final Symptom Of A Very Dumb And Very Fatal Disease
The hubris of everyone's least-favorite ridesharing company is outmatched only by its pile of burning cash.
Remember a long time ago - like 11 whole days - when Lyft went public at a nosebleed valuation despite hemorrhaging money and genuine confusion on The Street about how it would ever make money?
Well, this is how that played out:
So, with this chart in mind - and what we learned from the IPOs of Etsy, Snap and Blue Apron - are we finally ready to capitulate to reason and make adult choices with all this cheap money we still have lying around?
Uber Technologies Inc has decided it will seek to sell around $10 billion worth of stock in its initial public offering, and will make public the registration of the offering on Thursday, people familiar with the matter said on Tuesday...

Uber is seeking a valuation of between $90 billion and $100 billion, influenced by the poor performance of smaller rival Lyft Inc's shares following its IPO late last month, the sources said. Investment bankers previously told Uber it could be worth as much as $120 billion.
We'll take that as a "No."
Ah, Uber. The prodigal son of tech unicorns. The OG bad boy mega-startup plagued by the kind of venal, nerd frat behavior that is only acceptable in finance. Lyft's bigger, badder competitor and the IPO that Wall Street has been waiting on for at least five years. The very same Uber that raised over $24 billion in private equity before losing its CEO and most of its board to a neverending parade of scandals and general dumb shit.
And now, as Lyft - the most useful model that Uber could ever have-  poops the allegorical bed less than two weeks into life as a public company, Uber has decided that it will debut at an unprecedented valuation roughly four times what Lyft got.
So we have to assume that Uber is going great, not posting annual losses like Lyft or the other aforementioned unicorns:
Uber last year had revenue of $11.3 billion, while gross bookings from rides was $50 billion. But the company lost $3.3 billion, excluding gains from the sale of its overseas business units in Russia and Southeast Asia.
A $100 billion valuation for a company that made -$3.3 billion last year? Is everyone fucking high?
We have no idea if Uber is planning on using the tiered stock structure favored by its forebears. You know, the one that leaves all control in the hands of founders and gives almost no voting power to outside shareholders? But we assume they will at least flirt with it. And that's very intriguing because the whole nonsensical notion of ceding control to a messianic founder only makes sense if the messianic founder is still at the company. Travis Kalanick is on a walkabout somewhere likely plotting his revenge the very day his non-compete expires. Right now, Uber is being run by Dara Khosrowshahi, the platonic ideal of the guy you bring after a bad IPO to right the ship, a clear indication that Uber feels its days of visionary thinking is behind it. In fact, Khosrowshahi's biggest role on the coming IPO roadshow will be to brag that Uber has gone months without media reports of inexcusable sexual misconduct at his company. 
In fact, the one question that everyone should be asking Khosrowshahi is why Kalanick was so determined not to take Uber public ever. What did he know that his successor doesn't? Has there been a fix to the whole problem with the inherently bad revenue structure? That $3 billion thing would say not. Travis didn't want to offer shares until he had cars that drove themselves. Where are you at there?
Nothing pleases us more than drawing big, simplistic comparisons between all of these disastrous tech IPOs, but we can only draw a few with Uber. Not because Uber is better, but because it is so much worse. What we've seen so far has been merely a chain of small, preventable explosions acting as an ominous prelude to the Chernobyl that will be the Uber IPO.
Uber is asking for the most capital while losing the most money, exhibiting the least likely possibility for growth, still reeling from its messy creation story and looking at a data set that conclusively shows ridesharing IPOs are not super hot right now.
What Uber is doing is what almost every tech unicorn IPO in the last five years has done; ask the markets to ignore fundamentals or basic reason, and instead layer their appetite for risk on something cool over the fact that money is still super cheap. It hasn't worked so far, but Uber is looking at the calendar, figuring that the dark days are almost upon us and daring investors to take their chips and go all in on something that they were horny for 2 years ago.
It's going to be a clusterfuck of epic proportions.
Uber's IPO will be oversubscribed in a matter of hours, the thing will pop immediately upon opening trading, dive like a Boeing 737 on day 2 and bleed out massive amounts of value slowly for months before popping a week before lockouts expire, and then implode. We've seen it before, but never at this scale, and the sheer carnage of a $100 billion Blue Apron on wheels will maybe even cure us of this illness.
But hey, it's not going to to be boring.
Exclusive: Uber plans to sell around $10 billion worth of stock in IPO - sources [Reuters]