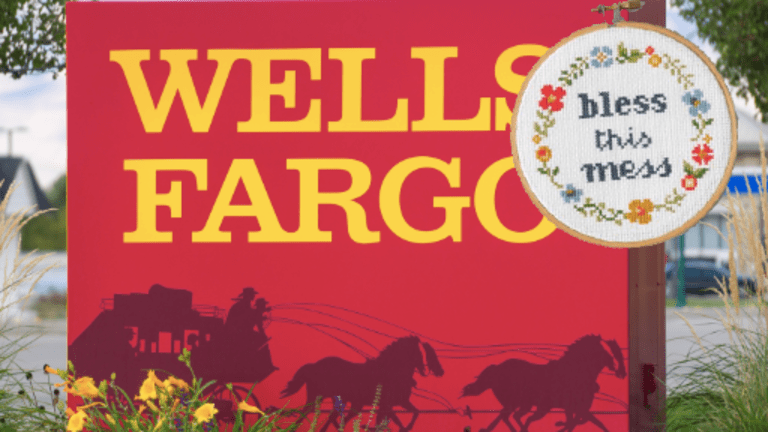 In Search For New CEO, Wells Fargo Reports A "Bless This Mess" Quarter
The Stagecoach is offering its next leader a real fixer-upper opportunity.
Tim Sloan is gone and Warren Buffett is ignoring what is objectively very good advice from us. So Wells Fargo is announcing its Q1 2019 results with temporary leadership, and things are...let's be kind and say "complicated."
Wells Fargo & Co. said Friday that first-quarter profit rose, though revenue continued to decline across all of its businesses.

Quarterly profit at the San Francisco-based bank, the fourth largest in the U.S. by assets, was $5.86 billion, compared with $5.14 billion a year ago. Per share, earnings were $1.20. Analysts polled by Refinitiv had expected $1.09 per share.

First-quarter revenue was $21.61 billion, down from $21.93 billion a year ago. Analysts had expected $21.01 billion.
Basically, Wells Fargo managed to beat sentiment, but sentiment towards Wells Fargo is so negative these days that this bank beating expectations is akin to winning a limbo contest when the limbo stick is 30 feet in the air.
And a deeper read of the balance sheet shows some real cracks in Wells Fargo's foundation:
Behind the scenes, the bank's business lines have struggled. What was once an aggressive, fast-growing lender whose profits towered above those of rivals has become a firm with declining revenue that has announced big plans for cost cuts.
Wells Fargo has spent the last two years trying to paper over the damage that came from one of the biggest banking scandals in American history. It moved slowly to address too many of its issues, picked the wrong guy as CEO, and kept making literal cosmetic changes hoping people would buy that as real evolution. And now the bank finds itself looking for a transformative leader as multiple business lines deteriorate due to rudderless leadership at multiple levels. That's what the old folks refer to as a "Catch-22":
The CEO search makes it unlikely the bank will develop a plan to revive its business in the near future, analysts say. 
Exactly.
So who will take reins? At this point, Wells needs an almost divine figure to come in as CEO. Someone capable of looking at an objectively bad situation and believing that they are smart and tough and unique enough to make it all work again. Wells Fargo needs an executive imbued with the kind of ego that verges on personality disorder. A person so messianic to themselves that they see the world through an utterly different prism.
Holy shit, you guys, Wells Fargo needs Dick Fuld.