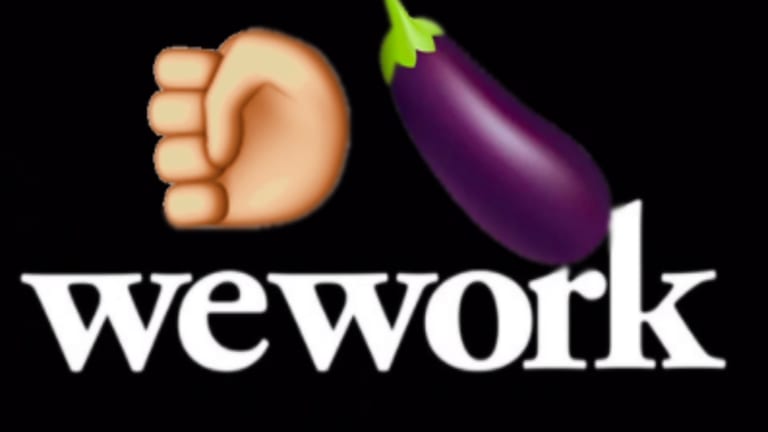 WeWork Files For IPO...Which Is Funny All By Itself
Congrats to Uber on looking profitable by comparison.
Well here's one way to cure our case of The Mondays:
The We Company ("WeWork") announced that it has confidentially submitted an amended draft registration statement on Form S-1 with the Securities and Exchange Commission ("SEC") relating to an initial public offering of its common stock. WeWork initially submitted its Form S-1 with the SEC in December 2018. This process will enable WeWork to make the decision to become publicly traded, subject to market and other conditions.
It's rare that an SEC filing holds such promise as a piece of financial satire, but "The We Company" S-1 is likely full of truly spectacular accidental comedy. 
Every time we've learned anything about WeWork, it looks more and more like the company is a financial sandcastle built on a rainy day using sand that SoftBank bought at a 500% markup. We know we like to make a big deal here about spending more than you make, but we sometimes get the urge to give WeWork a pass, because it spends sooooo much more than it makes and then creates nonsense accounting principles out of thin air to justify said drunken sailor budgeting decisions. WeWork is so brazenly full of shit about so many things that we legitimately respect the company at this point. After all, how can you not kind of love a real estate arbitrage plan that has spent so much time cosplaying up as a tech unicorn that it has staked claim to new frontiers in the exploration of affected tech pomposity? 
The release of the WeWork S-1 is going to be something of a secular holiday at Dealbreaker HQ. We look forward to waking up late, eating a reasonably strong THC edible to prepare our minds properly and then digging into the document, reading line after line composed with the single objective of pretending that "The We Company" is indeed a $70 billion revolution in modern living and not just a wildly overvalued machine powered by its founder and CEO passing money between his own hands with such speed and force that he has somehow created the financial accounting equivalent of cold fusion.
Man, this IPO is gonna be a rocket.
And if Uber plays its cards right, this document will be in our hands at least a few hours before that IPO, because the only thing that could possibly make Uber look anywhere close to profitable in the next three decades is a comparative look at WeWorks' bottom line.