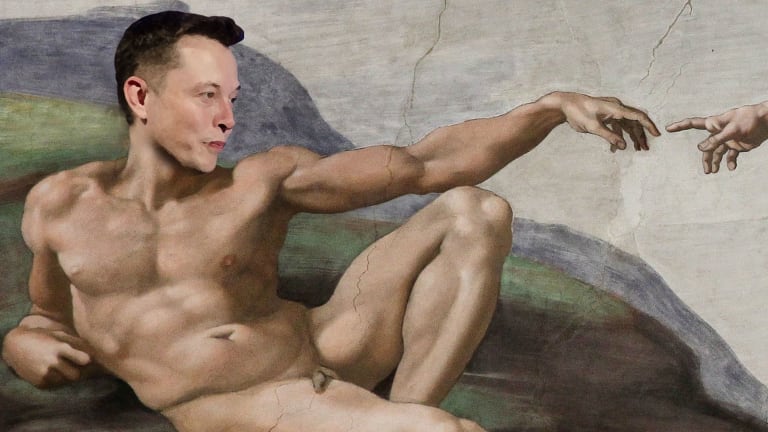 With His Martyrdom Approaching, Elon Musk Has Found His Saint Peter
Former apostle Adam Jonas has downgraded Tesla four times, and the rooster has not yet crowed.
We abhor overly dramatic analogies, but Tesla's financial picture is starting to look a lot like The Last Supper.
Like any new car company that is totally not a messianic religion, Tesla is still in the early verses of its creation story. To that end, things have taken a turn lately in such a way that we believe Elon Musk is looking more and more likely to end up a financial martyr. Following the rules of narrative, every messianic martyr needs to have at least one conflicted apostle capable of denying him three time. We are happy to report today that Elon finally has one of those:
Morgan Stanley is growing increasingly negative on Tesla shares.

"TSLA shares appear caught in a flywheel of concerns around demand & access to capital driving the share price lower, exacerbating sentiment around demand & access to capital," analyst Adam Jonas wrote in a note to clients on Tuesday.

He added: "Stopping this negative cycle is a priority for the company and its stakeholders."
Adam Jonas has downgraded Tesla...again...for the second time this year. There was a time when Adam Jonas was thought to be the Wall Street rock upon which Elon would build his church, but now the fourth Jonas brother is so full of doubt about the company that he once loved so deeply that we are comfortable categorizing Adam as a full-on Tesla apostate.
There is still time for Jonas to return to Elon's flock, but he better be quick since Elon has already found his Judas:
Vocal Tesla bull Ross Gerber, who is the cofounder, president, and CEO of Gerber Kawasaki, noted the technical behavior in a Friday tweet.

"Unfortunately Tesla blew through resistance today and capitulation selling happened," he wrote. "We were forced to reduce risk throughout the month in the stock for certain investors. We have sell rules at the firm that were triggered for certain clients. $TSLA."
How many pieces of silver, Gerber? HOW MANY?!
Tesla's stock is 'caught in a flywheel of concerns,' says Morgan Stanley analyst who just cut his price target for the 4th time this year (TSLA) [BI]