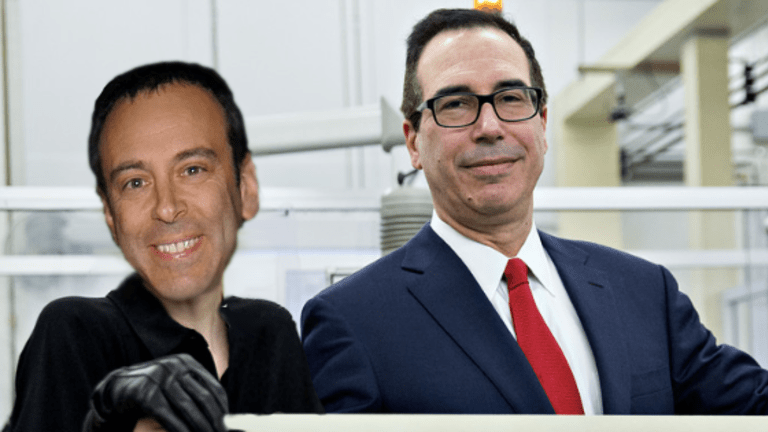 If He Won't Show Us Trump's Tax Returns Maybe Steve Mnuchin Would Like To Share His Thoughts On His Decade-Plus As A Member Of Sears' Board
Elizabeth Warren and Alexandria Ocasio-Cortez were just wondering.
Steve Mnuchin is not going to hand Donald Trump's tax returns over to Congressional Democrats. The president's man-for-all-seasons capo Mick Mulvaney says they'll "never" see them. That's cool. Elizabeth Warren and Alexandria Ocasio-Cortez can find other things to do with their time, now that the folks over in AOC and the president's home state have rendered the question of whether the IRS is, in fact, legally required to turn over those returns moot. Like, say, talking about what Mnuchin was up to during his 11 years as a Sears director under his college roommate, Eddie Lampert, 11 years which did not go well for the storied retailer, even according to Mnuchin's boss.
Warren and Ocasio-Cortez also asked whether Mnuchin had sought to waive an ethics agreement in which he promised to "not participate personally and substantially in any particular matter involving specific parties" where Sears was involved. That January 2017 agreement, which applied for one year, has expired….

Mnuchin said in his confirmation hearing that he would recuse himself from PBGC's actions related to Sears, but Warren and Ocasio-Cortez wrote that "the current status of your recusal requirements — and the exact types of decision you are recused from — are unclear."
This latest bit of unwanted correspondence follows hot on the heels of both another unpleasant letter from Warren and a lawsuit filed by the dried husk of Sears, also wondering what, exactly, Mnuchin was up to during his time on the Sears board from 2005 until his nomination to serve as Treasury Secretary. We're sure he'll have lots to say about it.
The Treasury Department did not immediately respond to CNBC's request for comment on the letter from Warren and Ocasio-Cortez.
Elizabeth Warren and Alexandria Ocasio-Cortez target Treasury Secretary Steven Mnuchin over Sears Bankruptcy [CNBC]