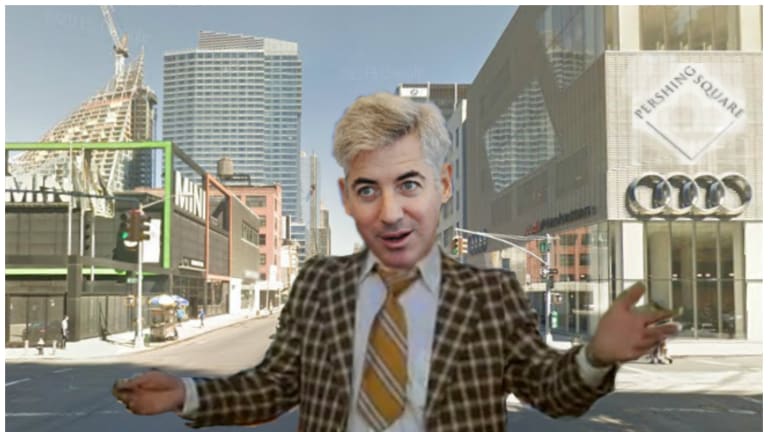 Bill Ackman Sounds Thisclose To Starting Up His Own Co-Working Space
Neri Oxman's trophy husband is sitting on a potential goldmine in Hell's Kitchen.
We were...unkind when Bill Ackman decided to move Pershing Square Capital to the farthest reaches of Midtown West, but -- like in most things -- we now look like dumb assholes. 
Bill Ackman's hedge fund is up nearly 40 percent this year — but that isn't distracting him from pitching some spare office space he co-owns in Hell's Kitchen.

"If you're interested in renting space, give me a call," Ackman joked on a Tuesday call with investors, referring to 787 11th Ave., a 10-story office building on the West Side that Ackman personally co-owns with developer Georgetown Co.
Oh, you better be laughing with the Ack Man, cuz he's sitting on some primo space here:
While the rest of the building is now mostly occupied, nearly 58,000 square feet on the eighth floor remains available to lease, according to the building's Web site.
58,000 square feet in Manhattan? That's arbitrage, baby. 
And since Neri Oxman gave Bill his magic back, we see this going well beyond some mere commercial leasing deal. The world is upside down and bad ideas no longer exist, so why wouldn't Bill capitalize on the co-working craze and launch his own shared workspace startup on 11th Avenue?
We can already picture it, a hybrid workspace/incubator play called "AckWorks" replete with high-speed fiber, state of the art common spaces, Kombucha on tap, Carl Icahn urinal cakes in the men's rooms and mandatory weekly tennis round robins on the roof. Hudson Yards is filling up fast and Bill can just sit back and catch the overflow, keep the memberships rolling, find an investment or two and give himself even more license to start acting like a born-again Millennial type who takes his even his most absurd notions as brilliant breakthroughs for mankind. And hey, worst case scenario Bill loses millions on this thing for a year or two then he just hires Morgan Stanley to take it public.
Okay, this is no longer a post, it's a cover letter for a job application. Call us, Bill, we can start moving the foosball tables in next week!
Bill Ackman pitches spare office space while celebrating hedge fund's prosperity [NY Post]