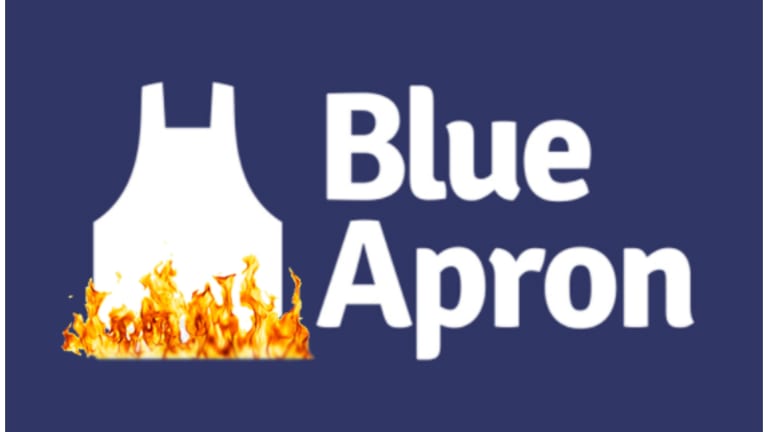 Blue Apron Decides To Pull The Emergency Break In A Few Weeks As It Plummets Ever Faster Towards Death
If you've lost 94% of your public market value in less than one year, why not do a reverse stock-split right f'ing now?
It's been a few weeks since Blue Apron replaced its CEO with a cold-blooded capitalist cost-cutter in a clear attempt at what we are fond of calling an "Etsy 180." And that violent move felt needed considering that APRN had too eagerly embraced its fate as a penny stock but remains resistant to its other destiny as a cheap acquisition target of Walmart Chief Hispter Officer, Marc Lore.
So, how have things been since April 3?
Well, that's not pretty. So what's the move now?
Meal-kit provider Blue Apron Holdings Inc. APRN,said Monday it is pursuing plans for a reverse stock split. The company's board unanimously approved the move in an April meeting, and recommended for shareholder approval a proposal for a 1-for-5 to 1-for-15 split with the ratio and timing to be determined by the board. The proposal will be voted on at the company's annual shareholder meeting on June 13.
Well that sounds like a dramatic and slow-moving decision. What's the angle?
The main goal of the split is to increase the price of the company's common stock and to improve liquidity. It will also allow the company regain compliance with NYSE listing rules, which it has breached after falling below $1 for a period of 30 consecutive trading days. 
Then why wait until June 13th? Just call an emergency meeting and do it now. 
APRN shares are less than two years old and they have already lost about 94% of their value [not a typo]. Waiting for another three weeks to vote on an idea that may or may not give you the boost you desperately need is not an option here. 
We're actually rooting for Blue Apron at this point, but the company is starting to resemble a dying pet who just stops eating in silent passive acknowledgment that the situation is terminal enough to hasten an ending.
Also, PICK UP THE PHONE MARC LORE.
Blue Apron is pursuing plans for a reverse stock split [MarketWatch]