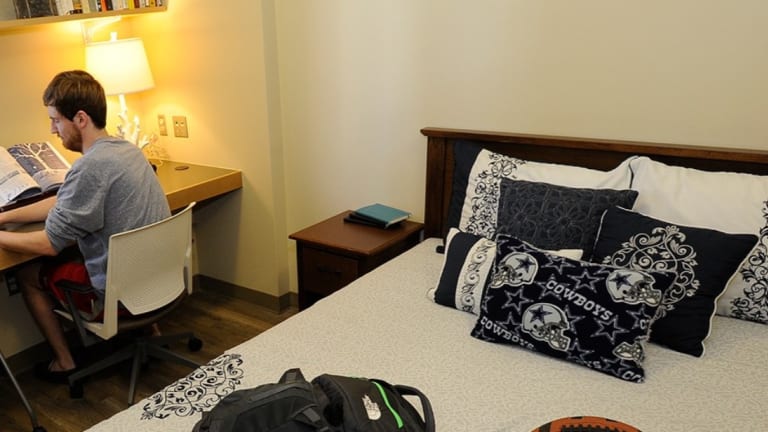 We Should Punish John Stumpf By Making Him Live In A Charlie Munger Dorm Room
No windows and having to listen to undergraduates for the rest of his life seems to fit the crime.
Renaissance man Charlie Munger is blind in one eye, going blind in the other and has enough money to do whatever the hell he wants. And what he wants to do is take some of that money, give it to colleges to build dorms, and then troll them with by forcing them to build the insane things he sketches in his spare time.
Some of the 95-year-old billionaire's ideas sound eccentric. Removable walls? Windowless bedrooms? Modeling dormitories after cruise ships? Mr. Munger calls conventional architecture "massively stupid…."

An early plan for a graduate dormitory at the University of Michigan—built with a $110 million donation from Mr. Munger in 2013 that also funded fellowships—had space for about 300 students. Mr. Munger's final design fits more than 600. Most of the bedrooms lack windows….

After committing an initial $200 million to improving undergraduate housing at the University of California, Santa Barbara, Mr. Munger has spent much of the past few years designing a dorm for the school.

Mr. Munger's proposal includes suites of eight single bedrooms alongside large common spaces. Most bedrooms would have artificial windows patterned after the portholes on Disney cruise ships, with customized lighting to mimic daylight….

"The minute I saw that, I realized that was the correct solution. And everything I thought before is massively stupid," he says.

He predicts that when this dorm and his future housing projects at UC Santa Barbara are completed, "it will be widely regarded as the best in the world."
You know what else Munger thinks was massively stupid? Firing Tim Sloan.
"He's a very good bank lender," Mr. Munger said of Mr. Sloan, who stepped down in March. "All these banks are using the government's credit to get the money, and all of them will tend to make stupid loans. So when you get a good lender, that's the last person you want to throw out. I would have kept Sloan, myself, but nobody asked me."
Anyway, he's drawing up some plans for a new Wells Fargo executive suite. It'll have extra-large women's rooms ("Who doesn't know that they pee in a different way than the men? What kind of idiot would make the men's bathroom and the women's bathroom the same size? The answer is, a normal architect!"), windows the only face west, plenty of common spaces for executives to learn from one another, and mandatory quiet periods, preferably permanent ones.
"We'd both like somebody who's already proved he's a good banker," Mr. Munger said. "Not from Wall Street. We don't like the Wall Street crowd that is making the damn decisions…."

Richard Kovacevich, who oversaw the bank's rapid growth as CEO until 2007, "never listened to anybody," Mr. Munger said. "He never stops talking. And he's full of himself. He would not learn anything from anybody."

John Stumpf, Mr. Kovacevich's successor who retired in 2016 after the sales scandal erupted, "was almost as bad but not so loud and persistent," Mr. Munger said. "But it just didn't get through to him that the incentives were too tough."
Charlie Munger Doesn't Want Wall Street 'Making the Damn Decisions' at Wells Fargo [WSJ]
Buffett Partner Charlie Munger Has a Side Gig: Designing College Dorms [WSJ]