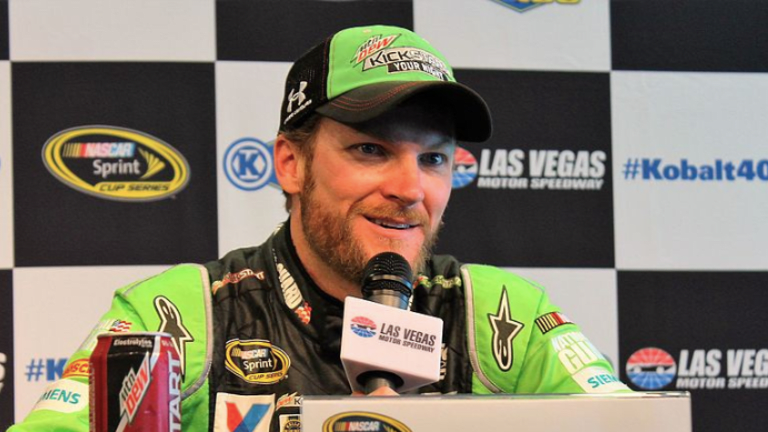 Dale Earnhardt Jr.: Company Man
Even outside the race car, "Junior" is living his endorsements.
Dale Earnhardt Jr. has known since childhood what corporate sponsorships are all about.
"My dad, back in the day, would have Snap-On Tools on his car," Earnhardt told Dealbreaker this week. "Snap-On Tools comes in and outfits the entire race team with new tools. Snap-On Tools is on the car. Next year, MAC Tools is on the car. I'm like, 'Well, what happened to Snap-On?' And, well, MAC came in here and gave us all new tools, so we've got MAC Tools on the car! Well, where's the loyalty? So, that always kind of bugged me. I've always been real lucky to – not really have my pick in sponsors, it's not been that sort of, that easy. But I've always been able to align myself with services and partnerships that weren't really out of my wheelhouse. Thinking back, there's been Budweiser, Mountain Dew, National Guard, and Navy. There's not really been one that didn't fit."
As a NASCAR driver, Earnhardt spent his professional career festooned in corporate logos and bringing them a lot of positive attention with 26 race wins, including two Daytona 500s, in a 19-year Cup Series career that ended in 2017 – which was his 15th consecutive year being voted NASCAR's most popular racer. Earnhardt now is a co-owner of the JR Motorsports race team, a race analyst for NBC, and former Powerball winner. You would understand if he hung up his pitchman shoes forever.
Instead, Earnhardt just embarked on a sponsorship that accomplishes something nearly impossible: you can't be cynical about it. The Nicorette Chevrolet that was on the floor of the Classic Car Club in Manhattan on Tuesday evening isn't going to be driven around any racetracks, and Earnhardt, who has no need to endorse anything at this point in his life, is on board because it fits for him.
"I think the marketing campaigns that are going to work for me are the ones that are genuine," Earnhardt said. "Ones that fit my brand or are linked to my past, or something in my past, which I would've never guessed that Nicorette would call and go, 'hey, we've got an idea.' I didn't think anyone outside of the NASCAR bubble was aware that I had been a smoker. It wasn't something that I'd talked about much. But we have a good history with brands where we tell a genuine story, like Nationwide insurance, I've been a customer since I was 16. That's all true."
Authenticity always goes a long way in advertising, whether it's Marshawn Lynch becoming the face of Skittles or Michael Jordan and Larry Bird being hypercompetitive lunatics over a four-dollar lunch. In this case, that's paired with a message that, even if it's in the service of selling a product, is necessary: quit smoking.
"This is an easy story to tell, and it's a true story, and people can tell this isn't BS," Earnhardt said. "I'll tell people outright that if I'm not comfortable with the product or service, let's not do it. We don't have to do it. I'm in a good place financially, and I felt like it would be fun to tell this story, and if it helps somebody finally kick the habit, that'll be the end goal. … I think when you tie in that real life story to it, that's why it's so easy. We didn't have to figure out how to make this fit. They're trying to tell the same story, help people quit. I had to quit. I know how hard it is. I can empathize with this person. 'This is something I wish I had when I was trying to quit, why don't you try this? I think it might help ya.' It's very easy. There's no endgame, just they're gonna try to quit and hopefully succeed."
The ad campaign features Earnhardt driving around with friends and relatives, talking to them about quitting, which he only brought himself to do because his wife wouldn't marry him if he didn't. He didn't have to tell the world this, and while, yes, he's a compensated endorser, Earnhardt isn't just hawking the tools of a company that paid to put a logo sticker on his car. In a sports business world ablaze in greed and self-interest, that's as refreshing as… as refreshing as… as refreshing as… the taste of new Nicorette Coated Ice Mint Lozenges?