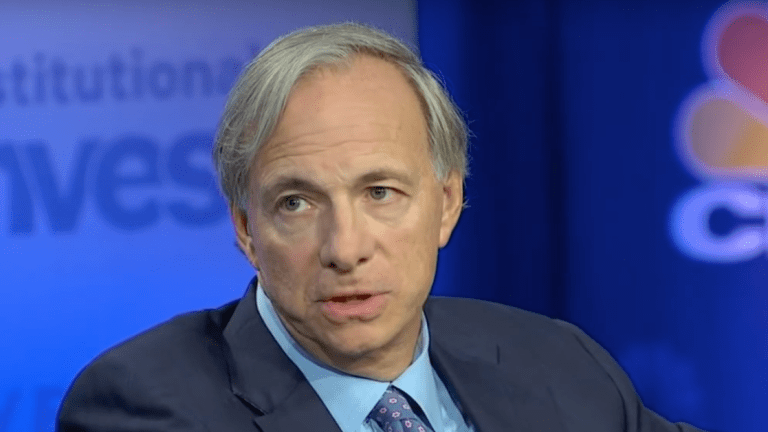 OK, So Maybe Ray Dalio Was A Touch Optimistic About The Trade War
His earlier opinions are not as valid as his current.
Once again, radical transparency and radical truth have proven incapable of penetrating a rapidly deteriorating brain dedicated to radical opacity and even more radical dishonesty. Unfortunately for Ray Dalio, that increasingly smooth, liquid and incoherent grey matter belongs to the president of the United States. Time and again, Dalio has expressed confidence that Donald Trump can't possibly be as stupid and dangerous as he appears. Time and again, he has been disappointed, although not in an economic way, of course. And so it goes: A year ago, he promised that the dick-swinging between Washington and Beijing could not possibly go too far. Even if he'd never understand the motivations or actions of the man bingeing on fast-food burgers and his daily case of Diet Coke, he knew the Chinese, and trusted them to keep things in check. And now?
The U.S.-China conflict is much more extensive than a "trade war." It is an ideological conflict of comparable powers in a small world…. What is now most important at this time of brinksmanship is seeing what actually happens next—i.e. whether we see the "tariff war" slip into an "export embargo war" intended to shut parts of the other country down….

The U.S. shutting off supplies to Huawei appears to be a step forward by the United States in weaponizing export controls. Notably, soon after that announcement, President Xi visited the largest rare metals mine in China and a top planning organization suggested that China might reciprocate such moves by the U.S. by not selling rare metals to the U.S. Refined rare metals are a critical import that American companies don't produce and need to get from China to produce many needed products in the U.S. such as mobile phones, magnets, night vision glasses, gyroscopes in jets, LED lights, glass, and ceramics.
Ah, good, the trade war he said wouldn't happen is about to escalate into something that will send us straight back to 1994, if not earlier. And possibly for a really long time.
"This contest will be a drawn-out process that will likely last our careers," said Jen, a former economist at the International Monetary Fund and Morgan Stanley who now runs Eurizon SLJ Capital, a hedge fund and advisory firm. "We as investors and analysts need to pace ourselves, and try to not just follow the latest news. We need to understand the economics and the cultural differences."
And to take sides.
At the Arizona Public Safety Personnel Retirement Trust's Wednesday board meeting, Paul Podolsky of Bridgewater Associates told pension officials why China is still the place to be for investors….

"Even though they're enormous…it's likely soon that they're going to be the biggest economy in the world," he said, specifically in about 10 years….

"It's true that we're definitely in a trade conflict with China," Podolsky said before reasserting his bullish stance. "The big picture, though, I'd say is even notwithstanding the trade war, it doesn't really change from an investment perspective what I think about China's assets."
Beyond the China-U.S. Trade War [LinkedIn]
Investors Brace for a New Cold War That Will 'Last Our Careers' [Bloomberg]
Bridgewater Tells Arizona Pension Fund China Will Be No. 1 Economy in 10 Years [CIO]