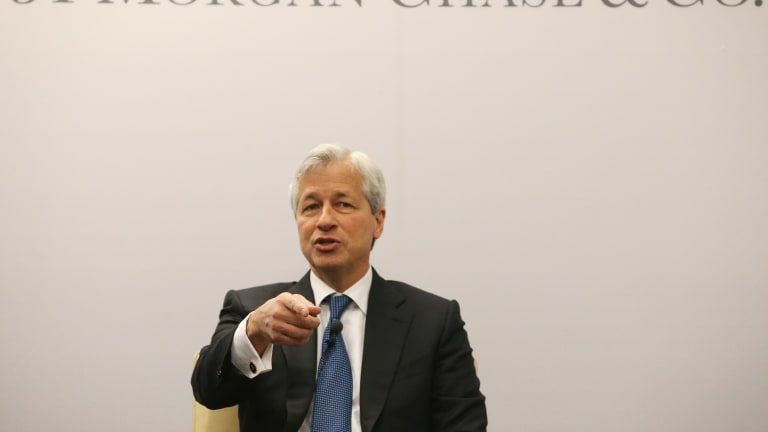 Jamie Dimon Pretty Certain That Wells Fargo Is Not Being Run Very Well
The Khaleesi of Wall Street throws some shade at The Stagecoach.
It's not often that Jamie Dimon weighs in on what competitors are doing, but he did so today when asked about the slow-moving succession disaster at Wells Fargo during an appearance at a banking conference.
Dimon also weighed in on the CEO search currently under way at Wells Fargo. Former CEO Tim Sloan announced in March that he was stepping down immediately, bowing to pressure from regulators and politicians who were frustrated at the pace of change at the bank.

"I think Tim Sloan was doing a good job but I think it's not responsible for a company — this is my own view — to have a CEO leave with no plan in place," Dimon said. "How can the regulators be pushing something irresponsible? So I don't know if it was a board-level decision, I don't know if they felt pressure from whatever, but it's not the way to run the railroad."
But while it's fun to see Jamie Dimon cosplay as Mike Mayo commenting on Mike Mayo's employer, we can't help but notice that there's some self-dealing here, especially considering that Jamie also answered a question about the recent move to reshuffle the JPM C-Suite giving Marianne Lake more hands-on experience running a unit and elevating Jennifer Poipezak to CFO. Dimon referred to both women as "stars" while offering a trademark non-answer on the thinking behind the shifting roles. 
Lake and Piepszak have both been named on lists of possible candidates to be the next CEO of Wells Fargo, so it's fun to see Jamie telling everyone that his possible successors are already too awesome to ever consider working at a nightmare factory like Wells Fargo.
Jamie Dimon warns US-China trade fight becoming a 'real issue' that could deter investment [CNBC]