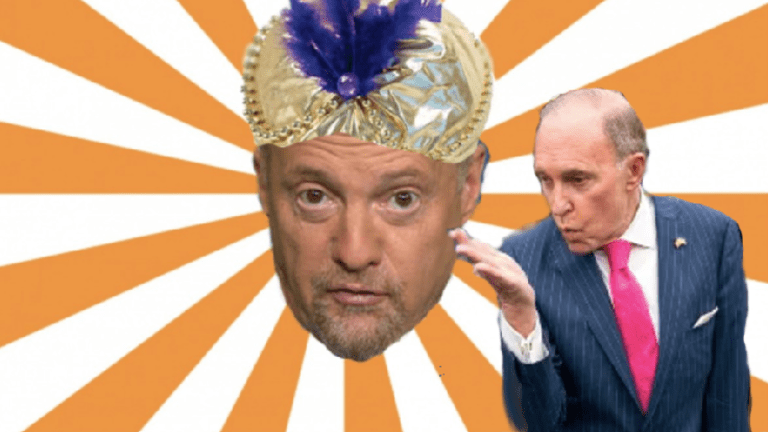 Larry Kudlow Told Jim Cramer About The China Trade Deal On Background, And Now We Know This From Watching CNBC
The Ralph Kramden and Ed Norton of American business news are at it again.
Everyone is still freaking out about the Trump administration's ability to strike a trade deal with China and pretending that it believes anything that the Trump administration is saying about striking a trade deal with China.
Luckily, in this moment of fear and confusion, we have a clarion voice of truth to lead us through the miasma of global trade uncertainty:
People are saying that American companies that didn't reduce their China exposure after months and months of watching Washington and Beijing clash on trade have only themselves to blame, CNBC's Jim Cramer reported on Tuesday.
Oh? What does the King of Cramerica know that we don't?
"I'm also told that they are like, 'Are you kidding me, you had a full year to move out of China. If you didn't move out of China now, it's your own fault,'" Cramer said on "Squawk on the Street. "
Hahaha, Jim's source sounds fun! We can almost hear a White House insider talking like that, in like a smug and nasal voice that comes through clearly on Jim's cellphone because this source has Jim's personal phone number...
"My people I talk to said two numbers determine everything, 3.2% GDP and 3.6% unemployment. That's when things changed. In other words, the Chinese played a little tougher but they overplayed their hand is what my people say. They overplayed their hand given the numbers of what we have" on the economy in the United States, Cramer said.
Jim's people seem to really like the simplicity of two macroeconomic data points that reveal strength without context, and also have a real interest in making the White House look tough on this China deal as the market shits its pants. Jim's people also seem to like shiny ties, name-dropping and talking to Jim because this is so obviously Larry Kudlow that we are fucking embarrassed to have even spent time on this...
Cramer: These are the two numbers that gave Trump confidence to hit China with new tariff threat [CNBC]