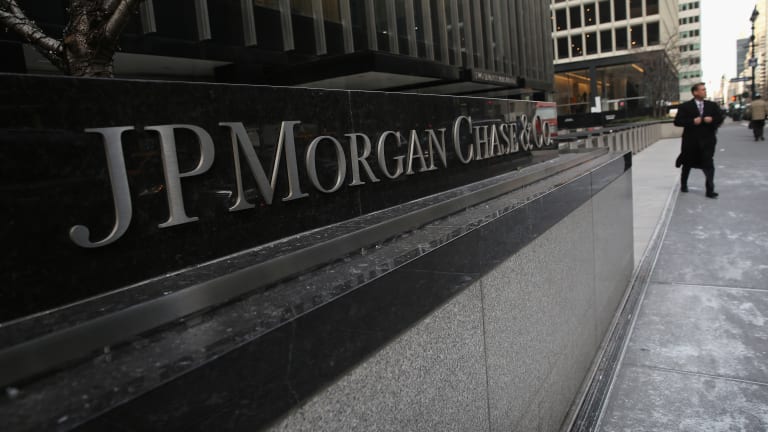 JPMorgan Pays Out $5 Million In Belated Recognition That Men Are Technically Also Sometimes Parents
Happy Father's Day from Jamie Dimon and his lawyers!
Listen to this Boomer bullshit that NPR found:
Two years ago, Derek Rotondo told his employer that he wanted to take 16 weeks of paid leave granted to primary caregivers for his newborn son. He says he was told: "Men, as biological fathers, were presumptively not the primary caregiver." He was only eligible for two weeks' leave.
What kind of hidebound, deep Red State corporate relic puts this in writing? Was this guy baking gay cakes at Hobby Lobby?
Rotondo, who had been investigating financial crimes for JPMorgan Chase for seven years, filed a complaint at the Equal Employment Opportunity Commission alleging gender discrimination at the bank. Within days, JPMorgan Chase said it would work with Rotondo and granted him the extra leave he wanted.
What the what?! JPMorgan Chase? The bank run by America's Dad, Jamie Dimon? 
Well, this is quite the pickle. It's decidedly not very "New Wall Street" to tell male employees that they better grow some ovaries or plan on getting to know their kids over the weekends. After all, that's the long-agreed-upon fine print. You don't put it in an email. 
How are you gonna wriggle free of this one, JPM?
On Thursday, his case culminated in a class-action settlement with JPMorgan Chase. The bank will pay $5 million to hundreds, possibly thousands, of men who filed for primary caregiver leave and were denied in the last seven years. Rotondo and his attorney said JPMorgan Chase changed its policy; the bank says its policy was always gender-neutral but says it has clarified its language.

"We thank Mr. Rotondo for bringing the matter to our attention," wrote Reid Broda, associate general counsel for JPMorgan Chase.
What a tremendously sincere "thanks" we have here. The lawyers on Park and 47th [or wherever JPM is stashing their in-house counsels these days] must be thrilled that Rotondo drove a Mack truck-sized PR nightmare through the purposefully vague language meant to keep women from using their entire maternity leave and men from taking it at all. "Thanks," a lot...and here's some pocket change we found in Dan Pinto's couch to make you see how sorry we are for the confusion.
And Happy Father's Day to every other financial services company that hasn't dealt with this yet.
But at least we do have one thing we know for sure after the settlement here: Men are simply too sensitive to run JPMorgan these days.
A Dad Wins Fight To Increase Parental Leave For Men At JPMorgan Chase [NPR]