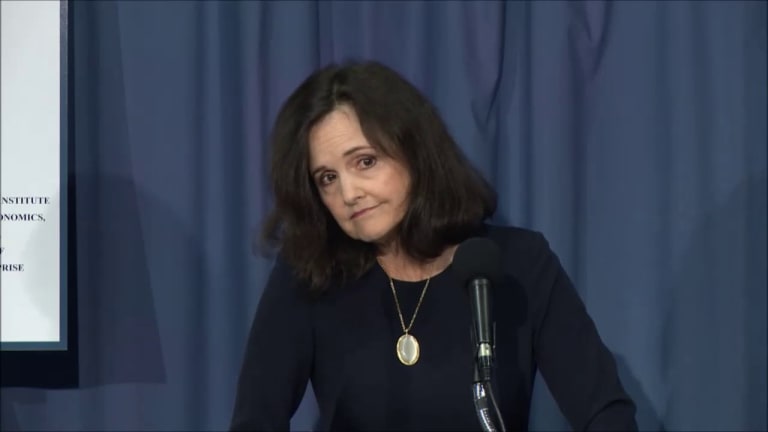 Meet Trump's Fed Plan C
She's a lot like plans A and B, but without the sexual harassment allegations or rampant misogyny.
President Trump has tried four times over the past two years to fill a pair of seats on the Federal Reserve Board of Governors. Those two seats remain wanting for occupants. After his first two picks, superficially plausible candidates, managed to attract enough opposition in a Republican-controlled Senate for Mitch McConnell to not even bring them up for a vote, Trump decide to Trump things up a bit, especially given that his war with the Fed had increased in intensity in the intervening period. So out went the credentialed economists and in came the patently unqualified partisan hacks.
Alas, Stephen Moore and Herman Cain didn't fly with an even more Republican Senate, although it was arguably the sexual harassment allegations and long, published history of misogyny, rather than their manifest unsuitability for the jobs, that sank their prospects. So Trump has gone out and found someone very much like them, someone who favored higher interest rates when a Democrat was president but nonexistent ones when Trump is, someone who once loudly called for a return to the gold standard, someone who'd like to do a real number on the Fed, and, crucially, someone who is not likely to be credibly accused of wronging women in some way on account of being one. Everybody, meet Judy Shelton.
She wrote critically in the weeks before that election about how the Fed's low- rate policies were boosting wealthy investors and corporations at the expense of working Americans and retirees with fixed incomes…. "Things have changed," Ms. Shelton said in an interview with The Wall Street Journal, reconciling her earlier views with Mr. Trump's current call for lower rates…

If nominated and confirmed, Ms. Shelton said her main objective would be to scrap the way the Fed currently implements its monetary policy decisions….

Ms. Shelton has favored returning to a gold standard, where interest rates would have to be adjusted to keep the dollar's value fixed against the price of gold.
She's perfect! Which means, of course, she may be less of a potential nominee and more of a way for Trump to put Larry Kudlow in his place.
Ms. Shelton is a favorite of Mr. Kudlow, according to people familiar with the search process, but one of these people cautioned that her past views could create challenges in securing the nomination. "The people that Larry would like are not necessarily the people that Trump would like," said one person familiar with the search process.
Potential Fed Nominee Would Seek Shake-Up of Interest-Rate Policy [WSJ]