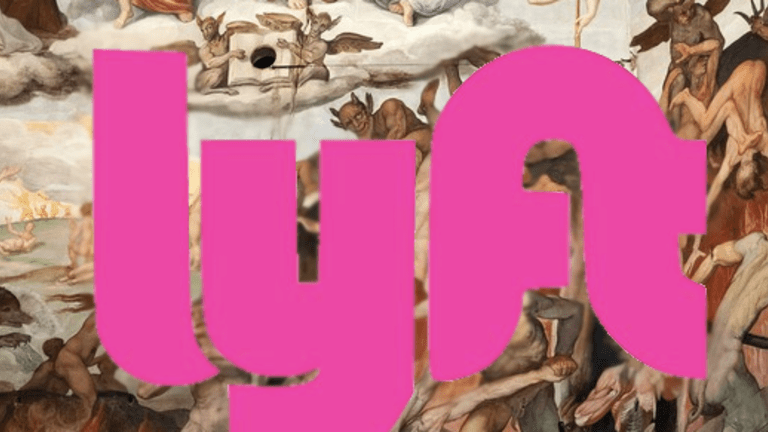 Investors Sue Lyft For Being...Well, Lyft
This is very dumb.
Remember when Lyft went public despite losing about $911 million last year, an S-1 filing with a "Risk Factors" section the length of a novella and no clear plan to turn a profit in the foreseeable future? And then remember how people bought the stock anyway?
Well, that went well:
So like any slow-moving disaster, people involved are desperate to get out, so now we have one of the funniest lawsuits that we've seen in a very long time:
Block & Leviton LLP, a Boston-based securities litigation firm representing investors nationwide, has filed a securities fraud class action against Lyft, Inc., certain of its officers and directors, and underwriters of its recent initial public offering, alleging violations of the Securities Act of 1933.

The lawsuit alleges that Defendants made false and misleading statements in Lyft's registration statement and prospectus issued in connection with the company's March 29, 2019 initial public offering. The alleged misstatements involve Lyft's claims about its domestic market share, failure to disclose issues surrounding the safety of the company's bike sharing program, and labor issues.
Oh, Lyft wasn't maybe totally clear that the labor structure of the ridesharing sector is a famously terrible hellscape of uncharted legal nightmares? And there was perhaps some obfuscation about what a financial clusterfuck the business of renting out electric bicycles to the anonymous public might be?
Listen, the Lyft IPO was not handled well, but hiring a lawyer to pretend that you were lied to after buying depreciating stock in an obviously untested business model that openly lost almost a $1 billion last year is the worst kind of venal laziness. If you bought Lyft stock at the IPO because you thought it was a safe investment, you are bad at this. If you bought the stock at the IPO because your advisor told you it was safe, then your advisor is bad at this and you should fire that advisor.
Either shut up and hold your Lyft shares in hope that this comes good or shut up and sell them to get free of your mistake, but regardless of your decision, definitely shut up.