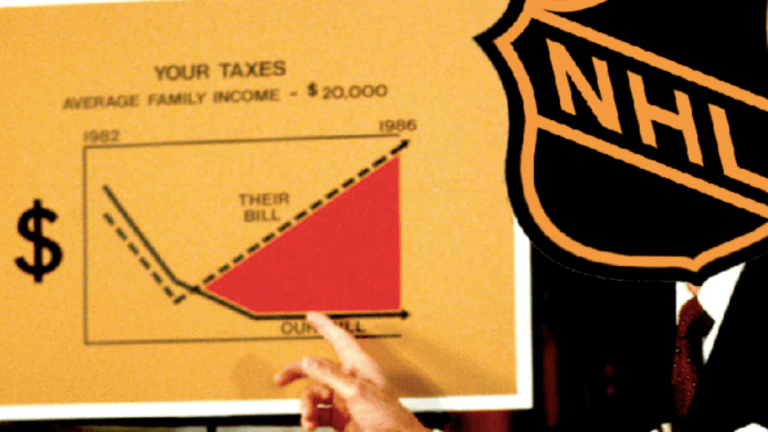 NHL Instant Replay Review System Will End In Tears...Bloody, Toothless Tears
Let's not ruin this, please.
The Stanley Cup playoffs are starting to wind down, with the Boston Bruins winning Thursday night and a compelling Western Conference finals between the Sharks and Blues heading for Game 4 on Friday night that has San Jose up 2-1 following Wednesday night's come-from-behind overtime victory in St. Louis. But it was the way that game ended that ensured there will be changes to the NHL's instant replay system next season.
Timo Meier's hand pass to Gustav Nyquist, who then made a legal pass to Erik Karlsson to set up the game-winning goal, was egregious enough to spark another discussion about replay in hockey in a playoff season that has been full of such talk. A major penalty that should not have been one in Game 7 of the Sharks-Golden Knights series sparked a San Jose comeback and maybe a Cup run. The Columbus Blue Jackets got a boost in their Cinderella run from an Artemi Panarin goal scored after the puck had clearly gone off the netting above the glass, which should have resulted in play being stopped.
In fact, even earlier in Game 3 of Sharks-Blues, there was an egregiously blown call, as St. Louis' David Perron clearly fired the puck over the glass and was not whistled for a delay of game penalty in the second period. By the end of the frame, Perron had scored a pair of goals that put the Blues ahead, and an argument could be made that the missed hand pass call was just the hockey gods evening things out.
In the past, maybe that would have been it, and maybe the league would have revisited expanded replay this summer anyway. What makes it a certainty that the hand pass will do it is that it was that call that led the FanDuel sportsbook to give refunds to anyone who bet on the Blues.
It's not the first time that FanDuel has done something like this, and it's somewhat controversial in gambling circles to offer a "bad beat refund" when bad beats are really par for the course when you place a bet. At least in this case, FanDuel is compensating bettors who would have otherwise been losers because of a bad call, unlike in January when they gave back money because the Chicago Bears had a kicker who couldn't Kawhi Leonard his way to a winning field goal.
But why should the NHL care about the PR stunt of a sportsbook? Well, when that sportsbook is an official sports betting partner of the league and loses money because of incompetence on the NHL's part, it takes on a lot more weight that there's a garbage replay system that can't correct obvious and objective missed calls, yet takes important goals off the board for dubious reasons amid inconclusive evidence based on a rule that doesn't completely make sense and only applies during some periods of a game anyway. For the good of the game, here's hoping that one of those calls eventually costs an NHL sponsor money, too.