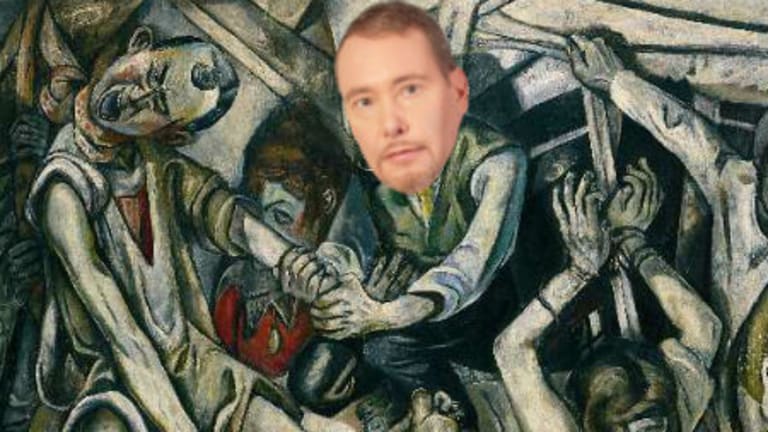 Opening Bell 5.8.19
This is fine, everything is fine ...
In NYC? Enjoy open bar? Join The Water Coolest in SoHo on Thursday, May 16th for CHAD Talks. From 7-9:30 we'll be hosting a networking event (read: open bar) and panel discussion (featuring bankers turned successful entrepreneurs) moderated by John LeFevre (aka GSElevator and author of 'Straight to Hell').
Tickets (available here) are $25 with ALL proceeds benefitting the PTSD Foundation of America. If you have any questions, email team@thewatercoolest.com.
Start your day with the Opening Bell powered by The Water Coolest. The Water Coolest is the preferred bathroom stall reading material of finance professionals. Sign up for the free daily newsletter.
EVERYONE, REMAIN CALM!
OK, maybe it's time to panic. The Dow Jones dropped 473 points on Tuesday after the White House accused China of reneging on agreements it had made previously in trade talks. The Dow fell as much as 600 points, closing down 1.8%. The S&P and Nasdaq suffered similar fates, down 1.7% and 2% respectively. 
There's still a chance ...
Beijing announced that it will still be sending Vice Premier Liu to Washington, but Liu and Trump's meeting will start on Thursday, a day later than initially planned. While Liu is here, the delegations will discuss the US' demands ... and probably a topic or two China wants to cover. If China doesn't agree? Well, tariffs on more than $200B worth of Chinese goods are still on the table, and they can be enacted as soon as Friday. 
What are the chances?
According to Jeffrey Gundlach, Chief Investment Officer of DoubleLine Capital, the chances of those tariffs being implemented sits above 50%. Gundlach also called the US economy rudderless, which is a PC way of saying "sh*tty."
When asked, Chinese Foreign Minister, Geng Shuang, said: "It's only natural for the two sides to have differences." That's a very polite way to say, "we're all f*cked if this doesn't happen." 
Stock Markets In Turmoil Amid Uncertainty Over U.S.-China Trade Talks  [NPR]
IN OTHER NEWS
- GM Cruise raised another $1.15B ... because why not? [TechCrunch]
- Google's I/O conference kicked off yesterday [TechCrunch]
- Lyft released its first financial statements as a public company [CNBC]
Sign up to receive The Water Coolest. Blue-chip daily business news delivered to your inbox every AM.