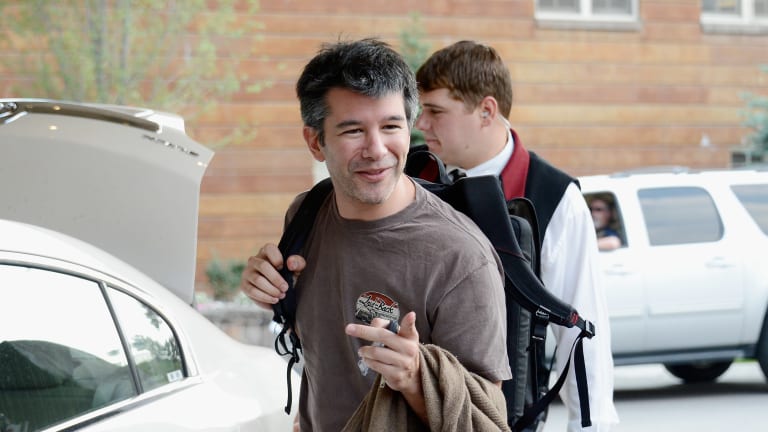 Opening Bell 5.9.19
The only thing more disappointing than this strike is Lyft's IPO ...
In NYC? Enjoy open bar? Join The Water Coolest in SoHo on Thursday, May 16th for CHAD Talks. From 7-9:30 we'll be hosting a networking event (read: open bar) and panel discussion (featuring bankers turned successful entrepreneurs) moderated by John LeFevre (aka GSElevator and author of 'Straight to Hell').
Tickets (available here) are $25 with ALL proceeds benefitting the PTSD Foundation of America. If you have any questions, email team@thewatercoolest.com.
Start your day with the Opening Bell powered by The Water Coolest. The Water Coolest is the preferred bathroom stall reading material of finance professionals. Sign up for the free daily newsletter.
ONE STAR ...
... is the rating that Uber and Lyft driver's protest gets. How pathetic was the walkout, er, turn off? It wasn't large enough to even cause a price hike in NYC or San Francisco (London riders reported a 1.8x surge price, but it was also raining). Around 300 people in San Fran, most of whom probably cover Uber for TechCrunch, took to the streets outside of Uber HQ. In London? 30 people.
Uber, with a sh*t eating grin on its face, confirmed that the protests weren't all that effective. In fact, figures indicate that Uber had only 500 fewer drivers on the road in Manhattan … representing less than 1% of its total NYC drivers. Tough break, protestors.
Despite the lackluster showing, the walkout, planned strategically ahead of Uber's Friday IPO, brings attention to one of the ride-hailing companies' pain points: its drivers ... who are most certainly not employees. The business models that Uber, Lyft and others are built on rely on cheap labor performed by contractors. Contractor (vs. employee) status allows the companies to skirt minimum wage laws and avoid paying for costly benefits.
The rich keep getting richer
But Uber brass didn't have time to laugh maniacally at their struggling third-party operators. For they were busy deciding how much money they would raise via an IPO. You might have heard that Uber is set to go public on Friday and plans to officially price its share today.
But Uber isn't trying to pull a Lyft, which offered its shares at the high end of its range and has since come crashing back to earth. Uber will offer stock somewhere between $44 and $50, or possibly lower.
For what was touted as the most highly anticipated IPO EVER, the debut couldn't come at a worse time: ride-hailing sentiment is at an all-time low (thanks Lyft, which was down almost 11% yesterday) and the stock market has taken a beating thanks to Donny Politics' trade aggression.
Uber drivers' strike takes off in front of company headquarters ahead of $90 billion IPO  [CNBC]
IN OTHER NEWS
- I'm so shocked that hackers stole $41M from Binance ... said no one ever  [Reuters]
- Walmart becomes the fun police, raising the minimum age to buy tobacco products to 21 [CNBC]
- The NYT continues to grow despite our best efforts [WSJ]
Sign up to receive The Water Coolest. Blue-chip daily business news delivered to your inbox every AM.