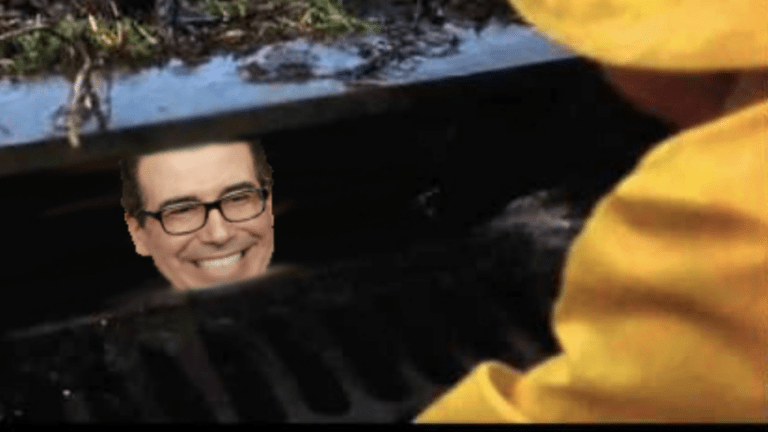 NYT: Steve Mnuchin's Father Brought Near Tears At The Mere Mention Of His Son's Name
Even for us, this is dark.
The art world was atwitter last week when the $80 million sale of a Jeff Koons sculpture broke the record for the highest amount of money paid at auction for an artist who wasn't dead.
As is their wont, The New York Times was on the case speaking to almost everyone involved, including the winning bidder; one Robert Mnuchin.
Mnuchin, who is a celebrated patron of the art world and the father of our dear Treasury Secretary, made the bid on behalf of a mystery buyer and seemed to be enjoying his part in making history:
Mr. Mnuchin joyously discussed his long involvement in the art world, which began when he was growing up in Scarsdale with a father who ran a small law firm and collected pieces by Franz Kline and Rothko. (And a Matisse that the family later found out was fake.)
It was a nice moment for Mnuchin, a notoriously likable man who has made a lovely second act for himself as a gallerist after a legendary career at Goldman Sachs. So it was fun to see to The Times capture the moment. 
Too bad they had to ruin it:
He was near tears when asked about his son Steve and refused to comment about their relationship. But friends said that he is in an impossible predicament, conflicted over his sense of duty about being a loyal father and his concern as a citizen that President Trump is bad for America.
Well...that's...wow.
We are sometimes a little critical of our Warlock friend, Stevie Mnooks, but this is tragic.
Robert Mnuchin Would Rather Not Discuss His Client (or His Son) [NYT]