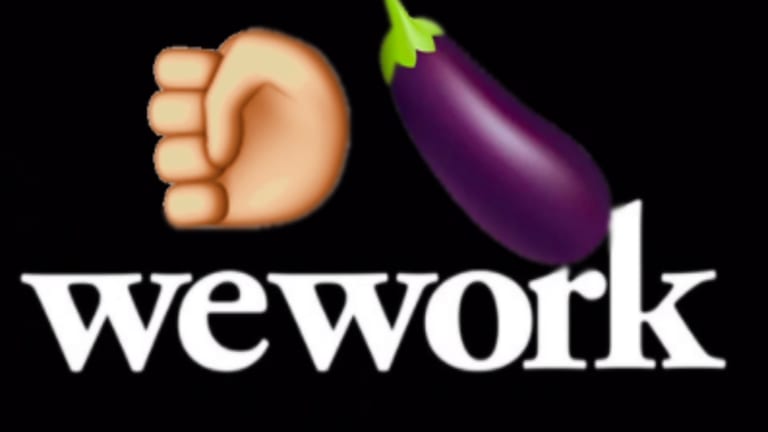 WeWork Seems Intent On Proving That It's Not, Like, A Real Company
The more these people talk, the more we want them to please stop talking.
In our opinion, satire is less funny the more obvious and broad it becomes, so we're a little disappointed to see WeWork finally crossing the Rubicon between comedy and dark comedy.
In an interview with CNBC to discuss the company's first-quarter financials, CFO Artie Minson urged investors to view losses as "investments."

"We really want to emphasize the difference between losing money and investing money," Minson said on Wednesday. "You can lose money or you can invest money. At the end of this quarter, we have these cash flow-generating assets."
Well, that's total bullshit. And it's not even the good total bullshit like "Community-adjusted EBITDA." It can be almost annoyingly cute when WeWork uses Millennial new age thought crimes to pretend that finance is a mutable concept, but simply asking potential investors to see net losses as unrealized profit is just boring and lazy. Especially considering that everyone knows why the company is saying something so lame and crazy:
When asked if he was trying to differentiate WeWork's losses from the capital the ride-hailing companies [Lyft and Uber] spend on subsidies and discounts, Minson said, "that's a fair differentiator." Renting out work space is "a proven business model," he said. Memberships climbed to 466,000 from 220,000 a year earlier.
Renting out workspace is a proven business model...for commercial real estate companies that own the space being leased. Which, by the way, is another thing that the company had something to say about yesterday:
Now, after more than a year of planning, WeWork is creating an investment fund that aims to raise billions of dollars to buy stakes in buildings where it will be a major tenant. If all goes according to plan, the fund, called ARK, will start with $2.8 billion, including $1 billion from Canadian real estate investor Ivanhoé Cambridge Inc. WeWork has long said it mostly stuck to leasing space because it believed in being "asset-light." Now it's wagering that buildings become more valuable with WeWorks in them, in which case ARK will put more of that added value back in the company's own pocket.
No, that's not the punchline. Wait for it...
The fund's pitch to investors revolves around the relative safety of a real estate play with a large tenant in hand. It also depends on a gut-level faith in WeWork's vibes. Sylvain Fortier, Ivanhoé Cambridge's chief investment and innovation officer, says the company's strength is what he calls a "recipe." "People actually want to be in the office, actually want to be together. They feel a little bit like home," Fortier says. "I bet you that sooner rather than later, a WeWork-branded building will be attracting other tenants the same way you will never have a vacant space next to an Apple Store."
At the risk of sounding like some Normcore financial thinker, this pitch seems very dumb. Is WeWork really pitching investors on the premise of "We leased this space, burned capital to make it look cool, sold short-term secondary leases, drove up the price of the real estate and now want you to help us buy it a premium so we don't get killed on our next rent increase period?" Because that is certainly a "recipe" for...something.
Somehow the optics around ARK get even more muddled and less realistic the more you delve into it. One example is how ARK will incorporate the holdings of WeWork co-founder, CEO and sometime landlord, Adam Neumann:
WeWork has been dogged by criticism from some investors this year for renting space in buildings partly owned by Neumann. That's legal, but outside of the real estate world, the boss negotiating how much to pay his own investments from the company's coffers carries more than a whiff of unseemliness. Partly for that reason, Neumann is transferring some of his own real estate holdings into ARK. The fund will be run independently from WeWork's main office-leasing business but will remain under the executive team's control as part of an umbrella company, so for all intents and purposes, WeWork will still be sitting on both sides of the table when it leases ARK-owned spaces.
What could go wrong here? Neumann is nothing if not a straightforward businessman...
"Everyone wants to know what ARK is. I think it's going to be amazing," Neumann says one morning last month at WeWork's headquarters in Manhattan's Chelsea neighborhood. Throughout our conversation, he's at ease making grand statements, as if the dreary details will fall in line later as long as the vision is bold enough. He's also hungry. It's just past 11:30 a.m. when a male assistant in a black baseball cap delivers a shallow gray ceramic bowl with brown grains and a spoon. "I haven't broken my fast yet," the 40-year-old CEO says apologetically, instead of using the word "breakfast."
Even the bowl should be embarrassed by what happens in this paragraph.
But most of these modern-day tech founders can be made to look like next-level douchenozzles by...their own behavior. What really matters is Neumann's vision for what future shareholders can expect from their investment in The We Company...
Neumann frames his idiosyncrasies in terms of spiritual enlightenment, which he says was especially heightened after SoftBank took the extra $14 billion off the table in January. "Let's not build a company just for the sake of revenue," he says. "Part of creating value is not maximizing." 
Oh jfc.
Let's be clear. WeWork's real business model has been selling an urbane elite Millennial lifestyle brand to wildly thirsty private investors like SoftBank who are more than happy to drive valuations into the financial Avant-garde. For that crowd, the practice of barista accounting is fun and novel, and it's also stopped being viable. For WeWork to survive going forward, it needs to really change shit up in order to be perceived as a real company by public market investors who are still licking their wounds from Snap, Blue Apron, Lyfy, Uber, et al.
That shift in perception will be very hard to achieve if the people running the show keep making it clear that WeWork might not be a real company.
WeWork urges investors to see losses as 'investments' as it reports first-quarter loss of $264 million [CNBC]
WeWork Wants to Be Its Own Landlord (It Also Wants $2.8 Billion) [Bloomberg]