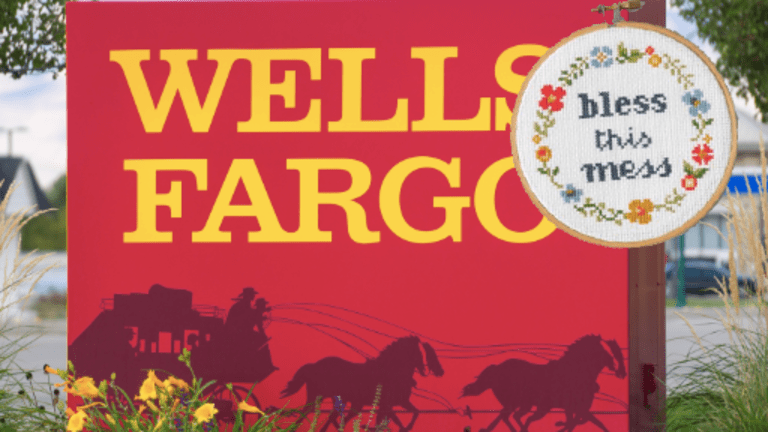 Sadomasochistic Megabank Courting Area Hedge Fund Manager To Be Its Next Dominatrix/CEO
If Wells Fargo wants Bridgewater's Eileen Murray to be its next CEO, then Wells Fargo might actually be ready to change.
If there's one thing we can say about Wells Fargo without a shred of doubt, it's that Wells Fargo has had a hard time in recent years being honest with itself about itself.
In fact, The Stagecoach has spent a few dozen months in quasi-absolute denial about what it did and what it has become. The bank's lame attempts at reputational rehab have consisted mostly of logo redesigns and promoting veterans to fix what their departed colleagues broke. It's been "fun" to watch...in the same way that watching a drunk slip and fall in their own vomit is "fun."
But today we have a little piece of news that leads us to believe that Wells Fargo might finally be interested in some major introspection:
Bridgewater Associates co-Chief Executive Officer Eileen Murray has held repeated conversations inside and outside of the firm about leaving the world's largest hedge fund, according to people familiar with the matter.

Ms. Murray was recently contacted by representatives of Wells Fargo & Co. about the bank's open CEO role, people familiar with the matter said. Wells Fargo representatives also called people close to Ms. Murray as part of that process. Ms. Murray subsequently tipped off the job possibility to others at Bridgewater, these people said.
By design, we don't know very much about Eileen Murray, the private notional leader of a notoriously private hedge fund. But -- like Wells Fargo -- there is one thing about Eileen Murray that we know for sure: Eileen Murray does not fuck around.
After Ray Dalio departed the Westport Woods to do his Oprah impression, Murray has been the one maintaining Bridgewater's treehouse of radically transparent success-at-all-costs. She's very much in charge of the day-to-day at one of the world's most intense corporate cultures predicated on the notion of acknowledging mistakes in real time, allowing no excuses and acting immediately to fix them. That could all be Bridgewater bullshit, but we have no reason to think that Murray doesn't operate on Ray's "Principles," meaning that she would walk into Wells Fargo on Day One with a lot of "honesty" to "share." 
Based on what we know of Murray's background...
Ms. Murray boasts a blue-collar background for the white-collar world of hedge funds. She grew up one of nine children in New York City public housing and earned an accounting degree from Manhattan College.

Subsequent stretches at Morgan Stanley and Credit Suisse as well as Bridgewater, where she is a part-owner of the firm, put her in a different income bracket. 
...we think she might be perfect.
We will once again drop the disclaimer here that we don't know much about anything, but the very little we do know makes us think that Wells Fargo could do a low worse than "CEO Eileen Murray." Our assumption is that she would ride herd on a bank that needs it quite badly, providing the kind of tough love that the bank's most recent CEOs seemed incapable of offering. 
Plus, we are not at all mad at the idea of a big four bank adopting the Ray Dalio management technique. We love "content."
Bridgewater Co-CEO Eileen Murray Weighs Leaving World's Largest Hedge Fund [WSJ]