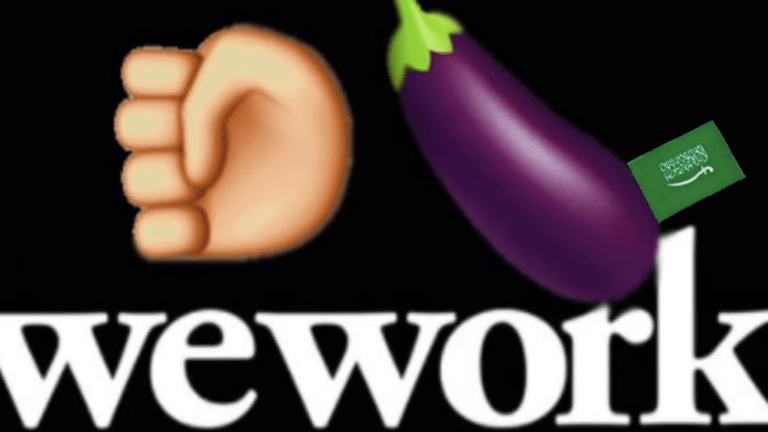 As A Public Company, WeWork Almost Promises To Be More Careful About Who Gives It Money Than It Was As A Private Company
Adam Neumann wants you to know that he understands how it looks to take money from The Saudis and will maybe stop now that you're watching.
Other than having to remind everyone four times a year how much money you're making, how much money you're spending and how you plan to change both in the future, the real bummer about going public as a company is letting boring norm-os have a say about how you run your business.
Take, for example, our pals at WeWork, who are planning their IPO for later this year and find themselves answering the kind of questions about its decision-making that even Business Insider can't help but ask...
Business Insider recently had an in-depth conversation with WeWork cofounder and CEO Adam Neumann, and we asked him whether he thinks Silicon Valley has a Saudi Arabia problem. He admitted to "hovering" around the question and would not directly comment on the kingdom, but said that going forward he would not accept money from a source he disagreed with morally.
"What's happening here, you ask?" Well...
Neumann began a relationship with SoftBank CEO Masayoshi Son in 2017 with a $4.4 billion investment from its $100 billion Vision Fund, whose primary funder is the Saudi government, which contributed $45 billion of that. Son has since invested around $10 billion more (Neumann said he invested $6 billion last December, not the widely reported $2 billion), but from outside of the Vision Fund, which Neumann was quick to point out.

"Only our first investment came from there," he said. "All of the follow-up investments that you know of are SoftBank investments, not the Vision Fund, which is just a fact with us."
Yeah, but that doesn't change the reality that a performatively WOKE operation like WeWork is about to execute an IPO that will benefit the Saudi regime; the same one that murders journalists, maintains a rather 19th-century stance on gender equality, is waging a morally dubious "war" against its neighbor and almost certainly does not ascribe to the WeWork philosophy of "Do what you love!"
So what does [Israeli-born] WeWork founder and CEO Adam Neumann say about this troubling duality?
"I think the world has a global problem of extremists, together with a huge shift in what different countries can allow their citizens to do or not. I think the only way we're going to solve it is if we come together and agree on a certain level of moral standards, that there are a few things and behaviors we don't accept no matter what.

"If that means we can't get money because of it, then I agree with you. But if we don't find a way to come together and see the best in each other and find ways to collaborate even if it's hard in the beginning, then I think things will only get worse."
Umm...whuck? This isn't even a non-answer. It's merely an assemblage of words lined up to form something vaguely resembling an inoffensive attempt at a thought. 
You're about to be a public company focused almost entirely on driving up revenues in major metropolitan areas throughout the globe. You need to have a better answer about taking money from an infamously belligerent monarchy. No one really cared what you did as a private company hellbent on valuations and whatever "Growth" meant that morning. In fact, that was fun to watch. But an IPO invites a shit-ton of scrutiny that cannot be ignored. Suffice it to say that you are going to have a hard time using "community-adjusted EBITDA" to explain away a Washington Post columnist walking into a Saudi embassy as a person and coming out as a plethora of flesh-filled Hefty bags.
This is the big leagues.
Let's practice: 
"As a public company, do you plan on taking money again from Saudi Arabia?"
Now you say...
He said that he ideally wants the Valley to work with governments across the Middle East, and while he would not explicitly say he would never take Saudi money again, he told us that "global companies need to start taking a stand on what's right and wrong, not just for the sake of paying less taxes or getting in favor with the government of the country they want to enter; actually, for the sake of humanity."
Holy kombucha, Batman, this is fucking hopeless.
Asked if that applied to his $47 billion coworking-space company, he said "100%."
Ah, yes, WeWork's strongest skill: inexplicit math.
WeWork's CEO raised $4.4 billion from a Saudi-backed fund, but said going forward he'd consider declining investments on moral grounds [BI]