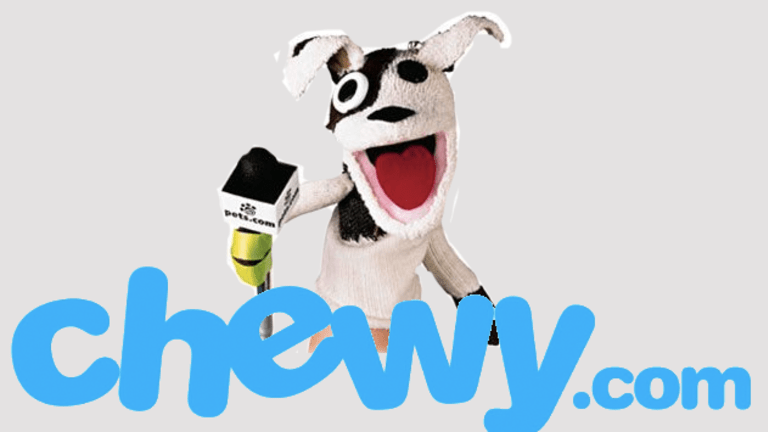 Online Pet Food Company Looking To IPO At $7 Billion In 2019 Because We've All Learned Literally Nothing
On the bright side, Chewy.com isn't profitable and is planning on doing a dual share structure to keep it that way.
If only there was a sign that the current tech IPO market has reached a self-harming level of absurd self-regard...
PetSmart Inc. is taking Chewy.com public at a proposed valuation of around $7 billion after a contentious ownership battle between PetSmart's creditors and its private equity investors.
An online pet food company going public at a sky-high valuation in the middle of a bubble? What could go wrong?
But, hey, aside from the obvious total lack of knowledge about tech IPO history and the resulting jokes, let's try to assess this Pet.com 2.0 situation based on its own merits in this timeline. After all, this new game has new rules. First off, do we have a messy creation story?
Creditors and PetSmart's private equity owners, a group led by BC Partners, in September locked horns over a transfer of the booming online business ahead of the IPO.

A portion of the Chewy unit was moved to an unrestricted subsidiary and the other to a parent company, beyond the reach of debt holders. Lenders argued that PetSmart was insolvent at the time of the transfer, and that the move was thus fraudulent.
Check!
And, dare we ask, does Chewy.com turn a profit?
According to the S-1, Chewy lost $268 million last year. So now we're cooking with gas.
And the valuation? Is it...crazy?
PetSmart last year pegged the value of Chewy at $4.45 billion in private documents shared with investors, according to people with knowledge of those documents. After the IPO, PetSmart expects to obtain a new revolving credit facility with covenants, including requirements that it maintain certain financial ratios.
Nice! Growing sales base is a fun rationale to pump the IPO valuation when everyone knows your dying brick n' mortar parent company is looking to bleed you on the public markets to survive. We LOVE IT!
And, please please please, tell us that these guys are doing the thing with the share structure that makes it impossible for shareholders to make an impact on decision making?...
PetSmart and its related entities own a majority of Chewy's outstanding common stock and will remain the majority stakeholder after the IPO.

Chewy is listing with a dual class structure that enables company owners to maintain control even after they become public. Holders of Chewy's B shares, including PetSmart, have 10 votes per share, the filing shows.
We love everything about this. And we fully expect underwriter BofA to naked short it hours before it starts trading.
PetSmart Pitches Chewy Listing at $7 Billion Valuation [Bloomberg]