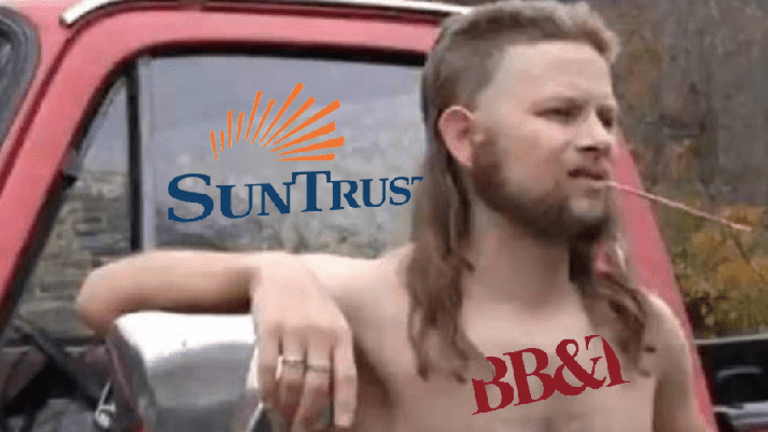 Massive Bank Merger Results In New Entity Named After The Sound A Redneck Makes When Asking For Your Car Keys
"Truist Financial Corp." is about to be the sixth largest bank in America.
The biggest bank merger since the crisis is pretty much a done deal, so it's time to start talking about what kind of plans SunTrust and BB&T are making for their future together. For instance, who's taking who's name?...
BB&T Corp. and SunTrust Banks Inc. said Wednesday they will adopt the name Truist Financial Corp. when they close their merger, the biggest bank deal since the financial crisis.
Umm, what?
The companies announced in February they would combine in a deal that has been valued at $28.2 billion. At the time, they said they would adopt a new name and leave both of their headquarters cities for Charlotte, N.C. They worked with global brand consulting firm Interbrand to decide on their branding, they said.

The bank will be called Truist Bank. It will be the sixth-largest retail bank in the U.S.
Well, Interbrand sounds like a hilarious group of trolls. It truly sounds as if these NYC branding hipsters were forced to spend weeks going back and forth between Charlotte and Atlanta, listening to southern bank execs muse about what they want to communicate with their new corporate name, and then ended up pitching the word "Trust" but spelled like it sounds when coming out of the mouth of a parking valet at the Charlotte Omni Hotel.
We can only assume that "Truist" won out over "Ashurred," "Grits" and "Wachovia."
But what does "Truist" mean to the banks themselves?
Robert Passikoff, founder and president of New York-based Brand Keys Inc., said Truist is "what we in branding call a mostly harmless name."

"It means kind of whatever you want to make it mean," Mr. Passikoff said.
Exactly.
Truist Financial Is New Name for Combined BB&T, SunTrust [WSJ]