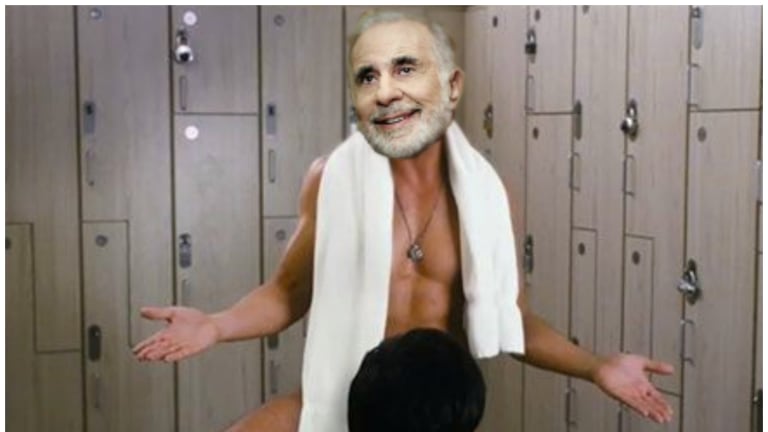 Carl Icahn Pens His Version Of A Love Letter To The Board Of Caesar's Entertainment
Uncle Carl is so full of emotion over the Eldorado/Caesar's merger that he thinks he's a peasant now.
When news broke this morning that small fish Eldorado Resorts will acquire bigger fish Caesar's Entertainment to create a massive casino empire, our thoughts immediately turned to Carl Icahn, because of course they did.
Uncle Carl has been pressuring Caesar's to sell for months now and is also in sore need of a win after taking a pretty hard L in his battle with Occidental Petroleum. So we were pleased to see that Icahn was feeling happy about selling Caesar's to a much smaller competitor. Happy enough to do a blog post!
And what a post.
Here's Carl Icahn sounding almost romantic about this deal:
While I criticized the Caesars Board when I took a major position several months ago, I would now like to do something that I rarely do, which is to praise a board of directors for acting responsibly and decisively in negotiating and approving this transformational transaction.
We have ourselves a love sonnet:
As a combined company, Caesars and Eldorado will be America's preeminent gaming company. It is rare that you see a merger where because of the great synergies "one plus one equals five." I look forward to seeing our investment prosper.
But this being Carl Icahn, his amorous feelings are only real in contrast with his...other feelings, about...other boards. And that shit --apparently-- runs deep:
Unfortunately, there are far too many boards that unlike Caesars, believe corporations are more like feudal systems, than democracies; that stockholders are the peasants who represent a necessary evil that must be tolerated, possibly patronized, but certainly ignored. Much like the feudal barons, they hire mercenaries (lawyers and investment bankers) to deal with these peasants (stockholders), if they become too unruly. 
Umm, what? Is Carl Icahn a socialist now too?
The recent Occidental Petroleum fiasco is a great example of how CEOs and boards will go to great lengths, including "betting the company" to serve their own agendas. If their bet is successful, they and possibly their shareholders win, but if it is unsuccessful, only the shareholders lose. Too many boards like Occidental's believe they are unaccountable and cannot be removed, and therefore can do almost anything they please. This attitude is a major threat to the value of America's companies, the stockholders of which are many middle Americans who have more of their savings invested in stocks than ever before.
Oh, good, he's just so emotionally confused by this merger celebration that he thinks he's a peasant.
Congrats on the merger, Uncle Carl!