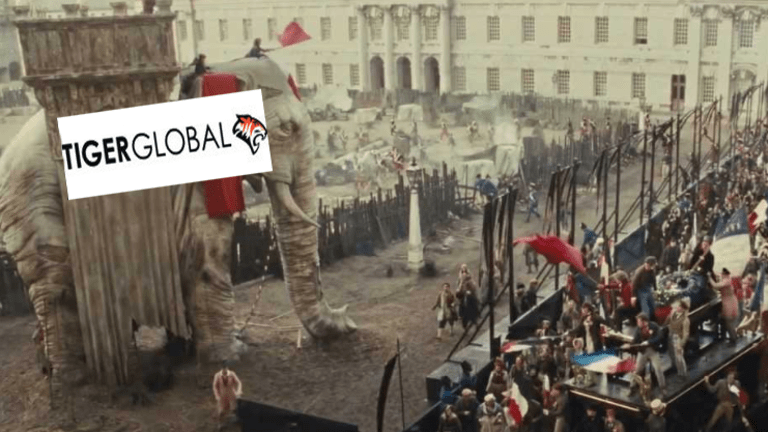 Bloomberg Nominates Tiger Global CEO As First Person To Be Disappeared In The Great Populist Uprising Of 2021
Today's profile of Chase Coleman III is the perfect reading material for Bernie Bros passing time on the ramparts.
From what we can tell, Chase Coleman III is like if codified wealth and privilege had a baby with old money Wall Street and then sent that baby to Deerfield and Williams where it played lacrosse and networked itself into a finance career.
Wait, sorry, that is actually Chase Coleman III. 
Born into New York aristocracy and educated at fine schools, Charles Payson "Chase" Coleman III was all of 25 when the hedge fund legend Julian Robertson handed him $25 million to start his own fund.

At 29, he married a chemicals heiress who'd been featured in the documentary "Born Rich." A gifted athlete, he's been known to catch a few waves in the morning near his $19 million Hamptons home before helicoptering to his Manhattan office. He's surfed with world champion Kelly Slater, invested with Snoop Dogg in a cannabis company and he's almost a scratch golfer.

Today, at 44, Coleman sits astride a $30 billion behemoth, Tiger Global Management. Bets on public and private technology companies have helped him amass a $4.6 billion fortune and made him the youngest financier among the world's 500 richest people, according to the Bloomberg Billionaires Index.
This is a fun piece of profile writing that could also do double duty as the new intro to Bernie Sanders' stump speech.
...Coleman, who grew up on the north shore of Long Island, the son of a lawyer and an interior designer. A descendant of Peter Stuyvesant, he attended Deerfield Academy, the elite boarding school in Massachusetts, and went on to co-captain the lacrosse team at Williams College.

"I've known Chase since he was a young boy on Long Island and a good friend of my son Spencer," [Julian] Robertson said. So it was natural that his first hedge fund job was at Tiger Management.
We have never appreciated the use of the word "natural" more than we do in this context. 
But before you populist Warrenista types get too wound up over meeting this human personification of the causes and effects of America's growing wealth gap, just try to remember that every life holds some darkness:
Not everything's perfect, though, of course. For one thing, the firm may actually have too much money—something Coleman himself addressed recently. 

"It's not easy to manage a big pool of capital, and I'm challenged every day," Coleman said last week at a Morgan Stanley conference, according to people who attended the event.
See? Coleman is less like a Bret Easton Ellis character comparing business cards while putting his victims' body parts in the freezer,  and more like a John Cheever character on the verge of being emotionally broken by the crushing expectations of his station, about to be murdered in a pool by his bitter, pregnant mistress/secretary. Either way, he's essentially a character of meta-fiction.
What we love most about this post is that the everyday Bloomberg reader will digest it and enjoy getting a peek into the life of a rather opaque bold-faced name in the hedge fund game who has managed to remain profitable through the bad times, but if this story ever makes it into the hands of a HuffPost editor...stand back and behold the Millennial class war word bluster.
But this is where we need to step back and point out that Chase Coleman III appears to be a very good hedge fund manager:
In the early 2000s, Coleman and partner Scott Shleifer added private investments to the mix, realizing before many of their peers that they might find higher returns outside of public markets.

During the 2008 financial crisis, Coleman's hedge fund lost 26%, followed by a paltry 1% gain the next year. The young investor regrouped, vowing to return to his tech roots and avoid industries where politics or macro events could interfere.

Investors say his success comes from concentrated bets, pressing winners and quickly cutting losers—skills he learned from Robertson. He told the Morgan Stanley crowd that the person who does best is the one with the panic button farthest from his keyboard.
And if you're left debating "Is his talent a byproduct of his privileged upbringing and the relationships he has made living life in a manner that even the elite would see as elite?" our answer would be "It doesn't really fucking matter if he returned 25% last year with an AUM around $30 billion."
This is finance, and the end result is really all that matters. Asset management is something of an outcome-based industry, making it hard for a shitty investor to be shitty and still hold assets in the low-to-mid eleven figures. Established relationships and inherited wealth are obviously huge factors in growing your future wealth and relationships, but Coleman's success is a little too monstrous to be explained away via the prism of "The One Percent."
So we'll just go ahead and reserve our impotent populist outrage for the next time some blue blood, born wealthy graduate of Exeter and [shudder] Middlebury who married a real estate heiress loses his ass after bragging to Cheddar about how he's ingeniously shorting the VIX. Because, as much fun as it is to behold a living caricature like Chase Coleman III, it's important to remember one key thing about caricatures like Chase Coleman III:
Coleman, who associates describe as reserved and a quintessential WASP, declined to comment for this article.
Exactly.
The Charmed Life of a Young Tiger Cub With a $4.6 Billion Fortune [Bloomberg]