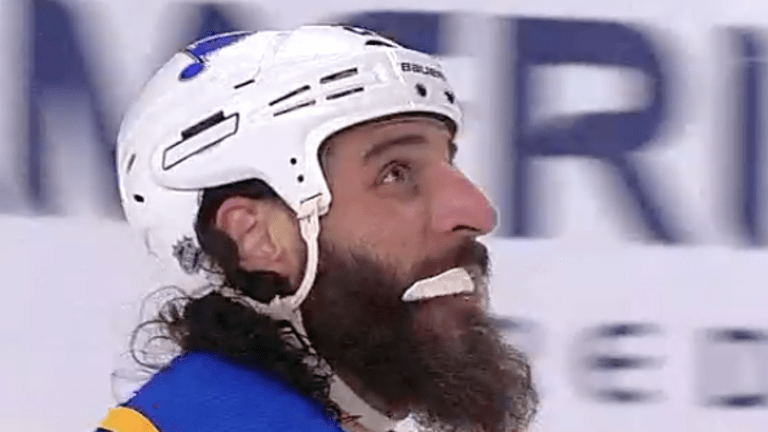 For One Stanley Cup Champion, The Victory Is Even Sweeter
Do you like this NY Times headline we just did? Well, don't get used to it!
Chris Thorburn has been playing hockey long enough that the Atlanta Thrashers were his third NHL team, after debuting with the Buffalo Sabres and playing a season with the Pittsburgh Penguins. Thorburn, the last active player from the defunct North Bay Centennials of the Ontario Hockey League, moved with the Thrashers to Winnipeg, played for the Jets until 2017, then moved on to the St. Louis Blues, who won the Stanley Cup for the first time in franchise history on Wednesday night.
This season, Thorburn played only one game for the Blues, and was on the ice for 1:52 of a 4-3 overtime loss in Chicago on Oct. 13. Those 112 seconds and one credited hit were the only difference between Thorburn in the NHL this season and you. He spent almost the entire season in the American Hockey League, playing 40 games with the San Antonio Rampage, before being added to the Blues' "black aces" taxi squad in the playoffs.
But when the Blues finally secured the Cup, Thorburn was the fourth player to get to skate with hockey's sacred chalice, after captain Alex Pietrangelo, 35-year-old first-time Cup winner Jay Bouwmeester, and decade-long Blues stalwart Alex Steen. Thorburn got the cup before Conn Smythe Trophy winner Ryan O'Reilly, before minor league journeyman-turned-season-saving goalie Jordan Binnington, before franchise player Vladimir Tarasenko, before everyone else who played a playoff game.
It's the players themselves who decide what order to pass the Cup around in, and there's usually some significance to it, especially early in the celebration. In Thorburn's case, it was more than just his tenure of 801 games in the NHL without coming close to the Cup. Thorburn spent this season away from his family, including his autistic son, and an early skate with Stanley was not his only reward for putting in a season's work in the minors: getting called back up to the NHL meant that Thorburn got back on NHL health insurance, a big deal in his family's situation.
At first glance, this is a heartwarming story, but much like a 9-year-old paying off his classmates' school lunch debt, teachers donating their sick days to a colleague with cancer, or Home Depot employees building a walker for a 2-year-old, when you think about it for an additional moment, it's sickening, just as it was last year when a GoFundMe had to be set up to help Washington Nationals assistant GM Doug Harris pay his medical bills while undergoing treatment for leukemia.
It's bad enough that healthcare is a for-profit industry and medical issues can put anyone into dire financial straits. It's worse that this is the case in the wealthiest society on Earth. It's mind-boggling and a sign of how completely broken this system is when being an executive for a Major League Baseball team or a professional hockey player for a decade and a half isn't enough to escape such trouble.
The Blues didn't have to call up Thorburn, but it was the right thing to do, and they did it. Maybe, when it came to Game 7, the hockey gods decided to smile upon that – it would've been an easy choice considering what St. Louis was up against.