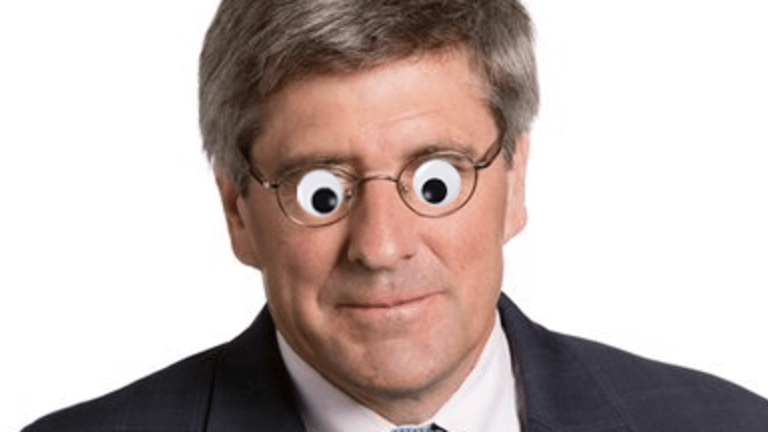 New "Crypto Central Bank" Startup Wants To Be Taken Seriously, Hires Stephen Moore Anyway
This is almost TOO good.
In what we're assuming is part of a "Make-a-Wish"-type scenario for fake economists who have been publicly shamed, Stephen Moore has a fun new gig!
Economist Stephen Moore, who recently lost out on a bid to join the board of the Federal Reserve, is now looking to start his own mini-Fed through the creation of a cryptocurrency Opens a New Window. product that is billing itself as "the world's decentralized central bank," FOX Business Network has learned.
This is ingenious. Crypto's putative appeal is that it's a decentralized currency not beholden to the regulatory framework of a central bank, so it makes total sense to go out and get a guy who has proven himself utterly incapable of being an actual central banker. Steve Moore is nothing if not a famous nincompoop posing as "an economist," so we applaud the broad strokes of his participation in a fee-grabbing crypto play trussed up as a central bank. 
How full of it is this startup though? 
"Decentral," as it is known, will attempt to perform Fed like duties in terms of regulating the supply of crypto in the same way as the Fed controls the supply of money for the U.S. economy, they contend. It will exchange its own new token for other cryptos; the supply of the new cryptocurrency will be tied to the value of the dollar or some other "stable" valuation method and will be strictly controlled by an algorithm, company officials tell FOX Business.So
So, "Very." It's actually a clever way to do another bad ICO. All this thing needs to get going, we assume, is volume...and nothing brings all the libertarians to the yard like some weird press coverage. The only real wild card here is Moore himself...
Moore's role is somewhat unclear. For now he is the group's chief economic officer and will report to tech entrepreneur Sam Kazemian, Decentral's chief executive officer. In a brief interview, Moore described the Decentral crypto as something similar to what social media powerhouse Facebook is planning with its new Libra token—namely a payment method that is also pegged to a stable currency and could offer uniformity and reliability in the crypto world that is currently fractured among various different currencies.
Huh...that's actually a canny usage of Moore's infamy. Keeping him away from any real decision-making and giving him canned lines to repeat so that he sounds halfway knowledgable about the crypto sector and the big trends affecting it these days. If Moore can stay on script and not say anything that Steve Moore would usually say, this whole thing just might work...
"I'm really excited about doing this," Moore said. "I hope it makes me rich."
There he is! That's our Steve.
Welp, that was fun while it lasted.
EXCLUSIVE: After Stephen Moore's failed Fed bid, he's creating a crypto central bank [FoxBiz]