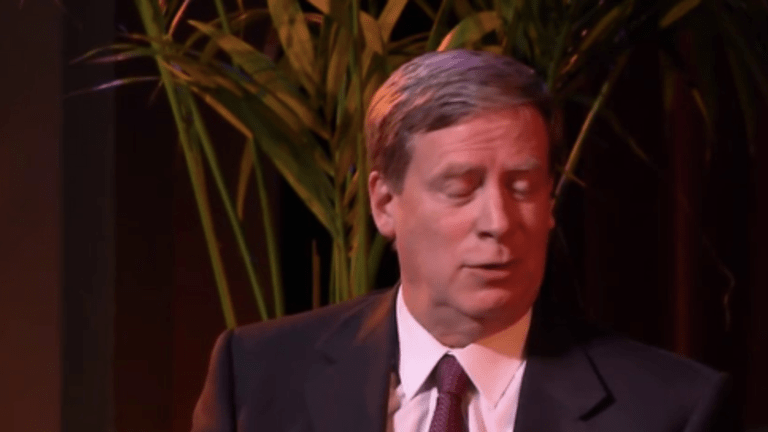 Stan Druckenmiller Has A Lot Of Problems With You People
You people being Donald Trump, Bernie Sanders and pretty much everyone in Washington.
Remember the run-up to the 2016 election? How we laughed and joked about the inevitable market collapse in the event of Donald Trump's election, which of course was laughably unthinkable itself? Stan Druckenmiller wasn't making those jokes, nor those predictions. In fact, he was downright giddy when said jokes were proven wrong, and more than happy to profit when said predictions not only failed to come true, but proved essentially opposite to what actually happened (although he's somewhat less happy now)?
Yea, none of that will prevent Druckenmiller from offering his own dire prediction if some other elderly, New York City-born, longshot candidate should be elected president next year.
"If Bernie Sanders became president, I think stock prices should be 30% to 40% lower than they are now," he said Friday on CNBC's "Squawk Box. "

"The good news is we'd all be much more equal because everybody would be poorer but the rich would have lost a lot more wealth than the poor would have," he joked.
And that is not the only cloud at which this old man wishes to yell.
Billionaire investor Stanley Druckenmiller went after President Donald Trump and lawmakers on Friday for their moves against big technology companies.

"We are attacking our companies that are the leaders in this stuff. But man, it's great. We're supporting our steel industry, our coal industry, [and] our aluminum industry. Way to think about the future, President Trump, just genius," Druckenmiller said sarcastically on CNBC's "Squawk Box. "
Stanley Druckenmiller says stocks would fall 30% to 40% if Bernie Sanders is elected president [CNBC]
Druckenmiller hits back on government moves against Big Tech [CNBC]