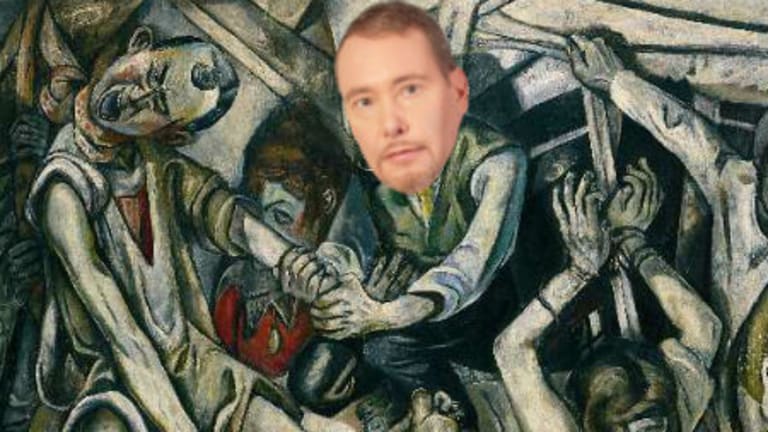 Jeff Gundlach Is Buying Gold Because S**t's About To Get Real
Everything can't keep going up, and we can't keep spending money we don't have, sayeth the new Bond King.
We are told that nobody cares about the federal budget deficit—which is ballooning, by the way—anymore. This is not entirely true. Jeff Gundlach cares. He's worried, in fact. And not just because he hasn't adopted the only bipartisan thing in Washington, which is the new belief that it doesn't matter how deeply in debt is the United States, but because he's worried there's worse on the horizon, and that a yawning budget gap, be it due to an extremely ill-advised tax cut or to whatever President Warren or Sanders plan to spend, will make us all feel like our office was just raided and inventoried by our employer, or that we just bought a lake full of counterfeit wine, but worse.
Gundlach now sees a 40% to 45% chance of a recession within six months, and a 65% chance in the next year. He pointed to several indicators that are flashing red lights, including the spread between consumer confidence expectations and current conditions, which is near all-time lows./The money manager also sounded an alarm on the "soaring" U.S. deficit, which could get "much, much worse in the next recession."
What's a man of many enthusiasms to do when facing such unpleasantness? Why, focus his attention on one particular enthusiasm.
"I am certainly long gold," Gundlach said in an investor webcast Thursday. He added his trade is based on the expectation that the dollar will finish the year lower…. The so-called bond king noted that 2019 has been "the opposite of 2018" because gold, bitcoin, stocks and bonds are all making money.
'Bond King' Jeffrey Gundlach bets on gold, sees rising recession chances, dollar decline [CNBC]