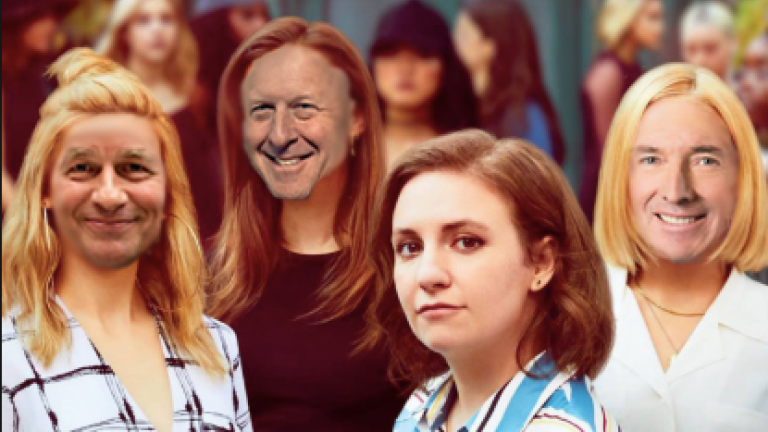 Lena Dunham's New Show Will Be About Investment Bankers And...Hey, Where Are You Guys Going?!
What? Is this not a perfect pairing of artist and subject?
Hey, do you guys love "Billions?" All that borderline authentic financial jargon wrapped around psychosexual antics and Financial Twitter celebrity cameos?
Yeah? Cool.
And how did you feel about "Girls?" 
We don't understand that sound you're making...it's too high-pitched to be a groan...
Well, according to The Hollywood Reporter, you lot are in for a treat!:
Girls creator Lena Dunham is returning to HBO.

The actress and prolific producer is teaming with newcomers Konrad Kay and Mickey Down for Industry, an eight-episode drama series set in the world of international finance. (It's unclear if Dunham will have an on-screen role.)
Clearly you want to hear more about this:

The series is based on Kay and Down's personal experience. It explores the world of international finance through the eyes of ambitious 20-somethings struggling to secure their futures. Industry follows a group of young graduates competing for a limited set of permanent positions at a top investment bank in London — but the boundaries between colleague, friend, lover and enemy soon blur as they immerse themselves in a company culture defined as much by sex, drugs and ego as it is by deals and dividends. As members of the group rise and fall, they must decide whether life is about more than the bottom line. 
Work-life balance? junior finance workers with friends? "A top investment bank in London"? Seems like we've already found some plot holes.
We will watch this progress with a lot of..."interest." We hear that Ichabod Munch is ding some consulting work on it.
Lena Dunham Returns to HBO With International Finance Drama Series [THR]