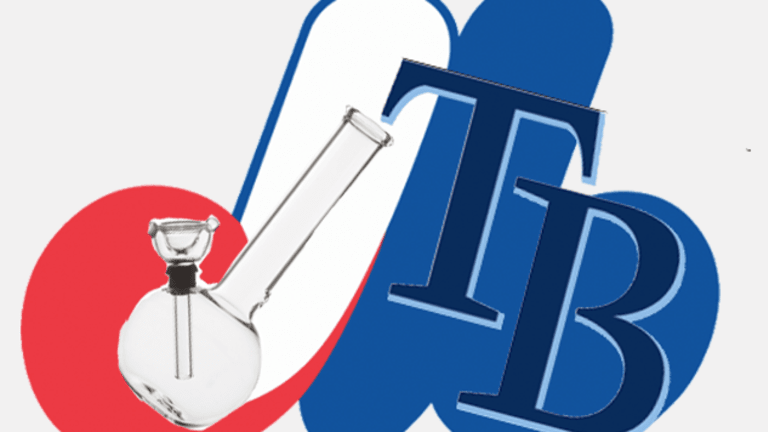 Major League Baseball Is High AF
Splitting a team between Tampa and Montreal? That sounds like -the opposite of- a great idea!
The news landed so abruptly on Thursday afternoon that it forced not only a double take, but a look to make sure that the blue checkmark was next to the tweet from ESPN's Jeff Passan, ensuring that it wasn't a well-crafted hoax.
"BREAKING: The Tampa Bay Rays have received MLB's permission to explore becoming two-city team: the Tampa Bay area and Montreal, sources tell ESPN. The plan: Play early-season home games in the Tampa Bay area and finish the season in Montreal."
It's an intriguing fantasy to ponder, allowing for the creation of fake logos and the spitballing of name ideas like "Ex-Rays." It sounds almost logical for a baseball team to spend April and May in Tampa, then head north to play the rest of the season in Canada. Plus, both Tampa Bay and Montreal have failed to regularly draw big crowds in the past, so maybe the simple economics of supply and demand would result in more…
Just stop right there. First of all, why would anyone in the Tampa area put any kind of emotional investment, let alone dollars, into a team that plays the important part of its season 1,300 miles to the north? Why would Montreal, which has been through this before when the Expos split time in their last couple of seasons with San Juan, build a stadium for a part-time operation? Why would Tampa Bay do the same, even if, as Passan's story notes, a dome might not be necessary for a spring-only team, lowering construction costs?
The idea of returning Major League Baseball to Montreal is that the city got a raw deal when the 1994 strike wiped out the best season in Expos history, followed by years of managerial malpractice and the contraction announcement in 2002 that let everyone in Quebec know just what the league thought of the market, before in the last few years, the Blue Jays started making an annual tradition of playing their last couple of spring training games at Stade Olympique, to ravenous crowds. If people are showing up at an obsolete stadium in Montreal for games that don't count, why half-ass bringing baseball back to La Belle Province?
The Rays, meanwhile, have spent their entire existence in a ballpark that was outmoded before it ever hosted a game. The Florida SunCoast Dome, now Tropicana Field, was built to lure a relocating MLB team, but the White Sox, Mariners, and Giants all wound up getting new parks in their own cities, all using Tampa Bay as leverage to various extents. It took two rounds of expansion before the Rays came to be, and by that point, Camden Yards had sparked a wave of nouveau-retro ballpark construction that left the Trop a bizarre relic in its own right.
Montreal should have a team. Tampa Bay, the 11th-largest media market in America, should have a team. Those teams should not be one team, and MLB needs to expand to 32 teams sooner rather than later anyway. In addition to all of that, St. Petersburg mayor Rick Kriseman offered a helpful reminder that the Rays are locked into their current stadium deal through 2027. His characterization of the news as "a bit silly" was charitable, while Pinellas County commissioner Ken Welch was accurate in his analysis, saying, "It's like your wife saying she's going to spend half the year with her other family."
That scenario isn't good for the initial family, the second family, or even the wife, which may be the most confusing part of this whole thing. Like, why would the Rays want to do this? Outside of being a precursor to leaving Tampa Bay for good, it's sheer lunacy.
Just ask those Montreal/San Juan Expos. Or the Kansas City/Omaha Kings of the 1970s NBA. Or the World War II Pittsburgh Steelers, who spent 1943 combined with the Philadelphia Eagles as the "Steagles" and 1944 with the Chicago Cardinals as the winless "Car-Pitts." The New York Islanders made things work this past season with a split-arena situation between Brooklyn and Nassau County, but that's Brooklyn and Nassau County, two places that are on the same island. Good luck ever finding a free agent who would sign up to never live in any one place for more than four months at a time.
The "Ex-Rays" would be a team never truly at home in either Tampa Bay or Montreal, would need two new ballparks to even begin to be considered viable, would take Major League Baseball's most promising expansion city out of the mix, can't even legally exist for eight years, and would struggle to attract the talent to put a decent team on the field, ever. Putting this discussion into the public forum was a maneuver to pressure Florida lawmakers to cough up more taxpayer money for a new stadium, which those lawmakers saw straight through for its ridiculousness. Other than that, though, it's a really cool concept.