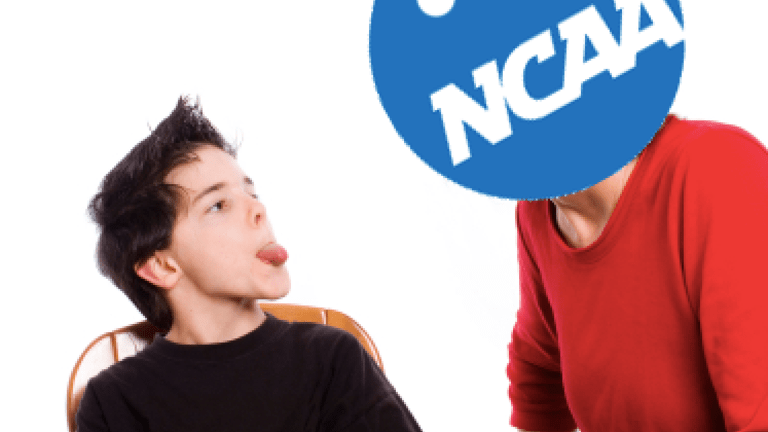 NCAA Tells California To Stop Trying To Pay College Athletes Or Risk Getting Mediocre Pac-12 Teams Banned From Championship Games
Mark Emmert and his empty threats are both bad and on the wrong side of history.
Before bedtime the other night, my 4-year-old son requested "snacks," and I replied in the negative, citing his earlier consumption of ice cream. "If you don't let me have snacks, I won't let you have any 'go' foods!" he retorted, which spoke well of what he thinks of my eating habits, but worked spectacularly poorly as a threat. 
And so we come to this news story from USA Today: "NCAA says California schools could be banned from championships if bill isn't dropped," and the details thereof.
"In a letter to the chairs of two State Assembly committees last week, NCAA President Mark Emmert implied that if the bill (which would allow college athletes to be compensated for the use of their name and likeness) becomes law as it is written, California schools could face the prospect of being prohibited from participating in NCAA championships."
To be fair, the NCAA is, out of necessity, working on this issue largely because federal legislation also is a possibility. That being the case, threatening California is even more of a move of bluster. If you're going to bluff, after all, the presumptive result of following through on it should be beneficial to you and deleterious to whoever is on the receiving end.
In the world where the California law passes and the NCAA basically acts to boot the California schools, the door would be open for those schools to go beyond compensating athletes for the use of their name and likeness, and move straight to paying athletes. But even if that didn't happen, the logical response would be for Cal-Berkeley, Stanford, UCLA, and USC to set about either convincing fellow members of the Pac-12 to break away from the NCAA, or to form a California athletic conference that revolutionizes college athletics.
The Pac-12, remember, has been looking for private equity investment, so you have an idea of how that conference is doing, as if their performance in marquee sports wasn't indication enough: the last men's basketball national champion from the conference was Arizona in 1997, when it was still the Pac-10, while in football it was either USC in 2004 (vacated BCS title), Washington in 1991 (not AP national champion), Colorado in 1990 (not in conference at the time), or USC in 1972 (when it was the Pac-8). (Sorry, college football history is weird.)
So, the Pac-12 isn't in great shape, but the NCAA decides to push one-third of its membership basically out the door, because if they're ineligible to compete for championships because of state law, why bother being part of the organization? Suddenly, here comes an enormous edge in recruiting: come play quarterback at USC, and score not only touchdowns but a raft of endorsements. Head to Stanford and be the face of the college football video game that fans have been pining to return for years, with a nice payday attached. Heck, come row on the Berkeley crew team and get your own signature oar!
The inherent risk of defections by NCAA members from other states to a new California-led organization for college athletics should be a further deterrent to the NCAA threatening the Golden State's universities. Do you really think Oregon, literally the subject of a book called "University of Nike," wouldn't jump at the chance to bring its athletic programs to a new, elite level with help from some sweet corporate cash?
Oh no, can't eat carrots and apples anymore? Whatever would they do?