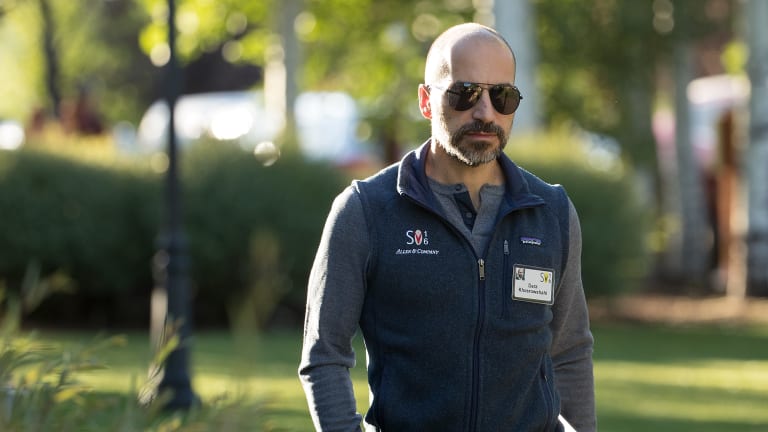 Opening Bell 6.10.19
The de-Kalanick-ing continues ...
Start your day with the Opening Bell powered by The Water Coolest. The Water Coolest is the preferred bathroom stall reading material of finance professionals. Sign up for the free daily newsletter.
AND FOR THAT REASON I'M OUT ...
One month after a train wreck of a stock market debut, Uber CEO Dara Khosrowshahi decided to roll up his sleeves and get in the trenches, taking direct oversight of the company's operations and eliminating the company's COO position, held by Barney Harford.
In addition, Khosrowshahi plans to combine the firm's marketing, comms, and policies teams into one group, sending CMO Rebecca Messina packing after just 9 months in the role. 
The goal? Cut down on massive losses and jumpstart stagnant growth. After $1B in losses during Q1, Uber attempted to build on its future as a platform for transportation as a whole. Instead, investors focused on the firms $3.8B in losses, the most by any US startup in the 12 months prior to going public.
Yikes
Uber's loss of a COO isn't exactly surprising. The practice is more pervasive at tech firms than sexual harassment and kombucha on tap: 22.6% of tech companies in the Fortune 500 companies have a COO role, while just 32% of the 673 companies analyzed across all industries had someone in the COO position, the lowest in nearly two decades. 
In fairness, one of Khosrowshahi's first hires, was Harford, who had been accused of making "insensitive remarks," so his departure is still in line with Khosrowshahi's initial goal to de-Kalanick the brand.
Uber shares dropped 1% on the news. 
Uber's COO and CMO are leaving one month after disappointing IPO  [CNN]
IN OTHER NEWS
- The US and Mexico are amigos ... for at least 90 days [WSJ]
- United Technologies and Raytheon are about to put the fear of God in America's enemies [CNBC]
- NASA is coming for you, VRBO [TechCrunch]