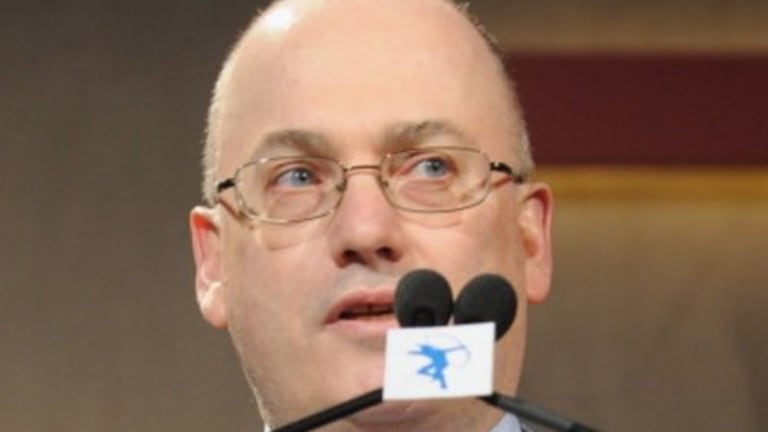 Opening Bell 6.18.19
Define power move ...
Start your day with the Opening Bell powered by The Water Coolest. The Water Coolest is the preferred bathroom stall reading material of finance professionals. Sign up for the free daily newsletter.
THE ART OF THE DEAL
Run of the mill, eccentric billionaire: *Buys $91M balloon animal*
Patrick Drahi, absolute boss: *Buys entire auction house*
The French telecom billionaire will take Sotheby's auction house private in a deal worth $3.7B. The big swinging d*ck will pay stockholders, including Dan Loeb's hedge fund, Third Point, $57 per share in straight cash homie, well above Friday's $35.38 close. Drahi, the chairman of Altice Europe, and noted art collector is worth an estimated $8.6B.
What does it all mean?
Despite record-breaking art deals, Sotheby's shares have fallen by 40% in the past year as the company faces higher costs and thinner margins. Allowing a $1.4M Banksy piece to shred live on the auction block certainly didn't help.
Whether or not the volatile auction biz is best suited for life as a privately held company remains to be seen. But one thing is for sure, the art world is about to become a whole lot less transparent ...
The same quarterly results which offered valuable insight into the health of the art market also put Sotheby's at a distinct disadvantage to its competitors, namely Christie's which is privately held. With Sotheby's reverting to the shadows, the art world will be without a public bellwether of the industry's overall health.
So why did Drahi really want Sotheby's?
Two words: trophy kill. Drahi will add a nearly 300-year-old, world-renowned auction house to his portfolio. And it probably doesn't hurt that French billionaire, Francois Pinault, owns rival Christie's.
Sotheby's Announces Its Biggest Sale — Itself — For $3.7 Billion [NPR]
IN OTHER NEWS
- Boeing is considering rebranding its 737 Max [Bloomberg]
- Deutsche Bank is considering shuttering its US equities business ... and it's about damn time [Bloomberg]
- Elon Musk announced that he was deleting his twitter account ... via twitter [CNBC]