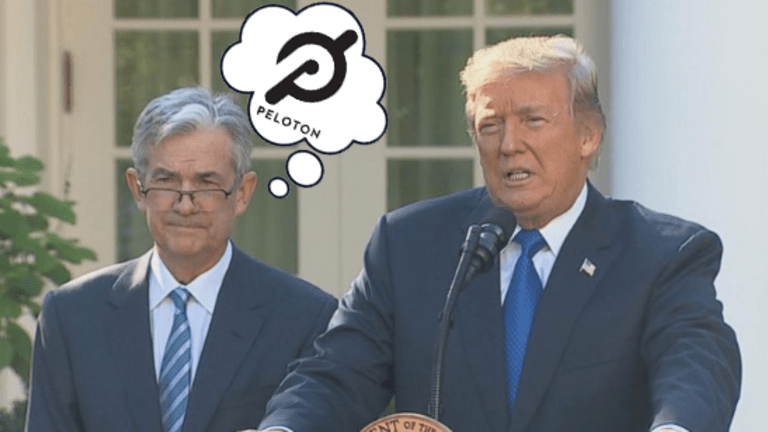 Tech-Enabled Home Cycling Platform Files For Confidential $8 Billion IPO, So Let's Cut Rates!
The Peloton IPO filing should be a major datapoint in The Fed's thinking.
We're not saying that there are myriad examples hiding in plain sight that the markets' insatiable thirst for interest rate cuts is less evidence of economic shakiness and more symptomatic of a troubling addiction to cheap money.
But, we're also not not saying it.
Peloton Interactive Inc. has filed confidentially for an initial public offering, the latest in a string of technology companies seeking to join the public markets in 2019...

Peloton is working with Goldman Sachs Group Inc. and JPMorgan Chase & Co. to lead its listing, which could value the company at more than $8 billion, people familiar with the matter said in February. Peloton said Wednesday that the number of shares to be offered and the price range haven't yet been determined.
We're not throwing shade [directly] at Peloton here, but the notion of an extremely luxury product-maker going public at an $8 billion valuation is not the thing one usually sees before The Federal Reserve eases rates. In fact, it's the kind of thing you see and then look back at years later wishing The Fed had raised rates to safeguard against the kind of batshit cheap money environment that fosters an IPO cycle like the one we are clearly in right now.
Or, maybe you dipshits want to wait for The Fed to capitulate to the army of whiny Najarian Brothers out there who want like five rate cuts before the end of 2019, then watch the WeWork IPO implode and augur the kind of bubble-bursting panic that will feel like the demon spawn of the 2000 tech bubble and 2018.
Anyway, congrats to Peloton and its investors...or whatever.
Cycling Startup Peloton Confidentially Files for U.S. IPO [Bloomberg]