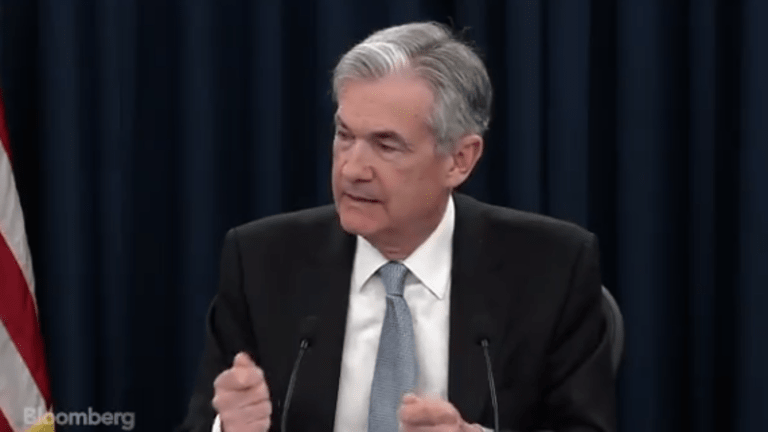 Jay Powell Gives President Trump Handy Roadmap To Lower Interest Rates
As it happens, it's the direction Trump was going anyway.
We're sure it's a result of a rigorous, independent analysis of the global and domestic economic picture and outlook, and definitely not the continuing media browbeating at the hands of President Trump and his minions, but once again, Jay Powell & co. seem to be coming around to the White House's point of view on interest rates.
"We do not know how or when these trade issues will be resolved," Mr. Powell said. "We are closely monitoring the implications of these developments for the U.S. economic outlook and, as always, we will act as appropriate to sustain the expansion."
For those not well-versed in Fedspeak, or struggling to understand Powell's hamfisted, pidgin version thereof, that means, "If this madman keeps launching trade wars, we might just have to lower interest rates." Or you can let St. Louis Fed chief James Bullard do the translating.
St. Louis Fed President James Bullard became the first Fed official to call for interest-rate cuts in remarks Monday in Chicago.

"The narrative on global trade has darkened," he told reporters. Last month, it appeared trade deals "were just around the corner," he said. Now, it appears "we're going to have many, many fronts in this trade war" that will take longer to resolve.
In other words, the Fed is broadcasting that all the president needs to do to get the rate cuts he wants is to keep doing something else he likes, which is blindly swinging his dick around and antagonizing global trading partners. No points for guessing how this goes.
President Trump said Tuesday he expects U.S. tariffs on Mexico to go into effect next week…. "I think it's more likely that the tariffs go on and we'll probably be talking during the time that the tariffs are on," he said. He added it would be foolish if congressional Republicans blocked the tariff plan, referring to reports that lawmakers in the president's own party were moving to stop him.
Two new analyses show that the tariffs Mr. Trump is using to punish China, Mexico, Europe and other governments would more than wipe out any gains from his $1.5 trillion tax cut for low- and middle-income earners, leaving them with less money to spend into a consumer-driven economy…. Analysts have abruptly changed their forecasts for Federal Reserve policy this year and are now predicting as many as three rate cuts as concerns grow that the Fed will need to take drastic action to prop up the economy.
Powell Suggests Fed Could Cut Rates If Trade Spat Escalates [WSJ]
Fed's Bullard: Rate Cut 'May Be Warranted Soon' [WSJ]
Trump Says Tariffs on Mexico Are Likely [WSJ]
Trump's Tariffs Could Nullify Tax Cut, Clouding Economic Picture [NYT]