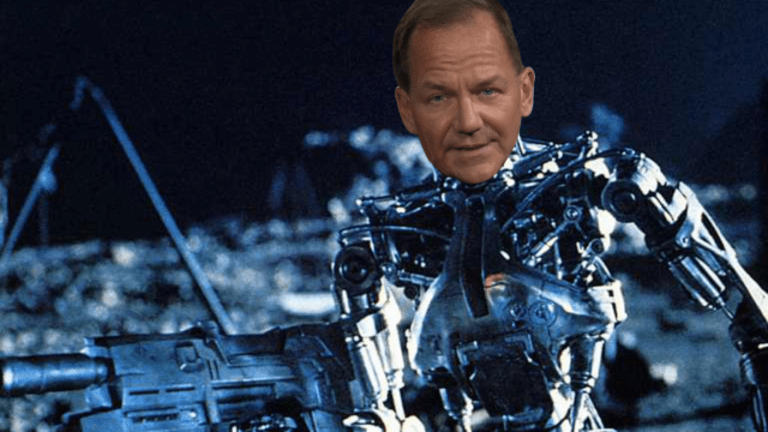 In A World Racked By Uncertainty, It's Nice To Know That Paul Tudor Jones Is Still Making Big Opportunistic Profits
PTJ is inevitable.
Fed is holding, Iran war, impeachment debate, what is China fighting for?! Paul Tudor Jones didn't start the fire...but he's obviously going to trade it!
Billionaire investor Paul Tudor Jones must be rolling in bullion right now.

The famed hedge-fund investor made a notable call last week, citing a cocktail of a dovish Federal Reserve and heightened geopolitical tensions as a perfect time to buy bullion and stocks.
And what with everything breaking quasi-bad...
Fast forward to June 21, and gold prices for August delivery the most active contract on Comex, was trading at $1,400, its highest level since 2013, as investors continued to buy the asset after the Federal Reserve on Wednesday shifted away from its "patient" stance on monetary policy and signaled that a rate cut could warranted if economic conditions worsen amid the protracted trade tussle between the U.S. and China that has shaken global markets.

Combined with dovish rhetoric from other central banks, signaling that further stimulus could be needed, about a decade removed from the 2008 financial crisis, the intensifying tensions between Iran and the Trump administration added to the search for havens for investors.

Gold hit an early Friday peak at $1,1415.40 an ounce, while the 10-year Treasury note also fell below 2%, as investors jumped into the perceived safety of bonds.
Now we can ease our worries about a shooting war with the Ayatollahs by simply closing our eyes and imagining PTJ swimming in a pool of doubloons, laughing again at the faulty thinking of the common trader...
Paul Tudor Jones is likely making a killing off a timely call last week to buy gold [MarketWatch]