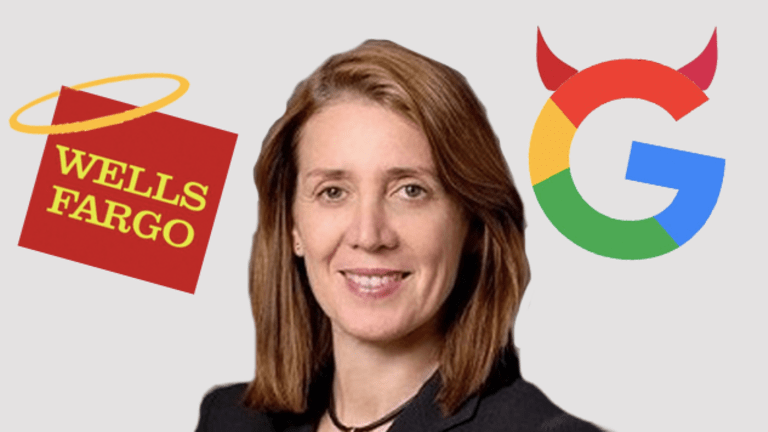 Google's Nightmarish Future Could Be The Stuff Of Which Wells Fargo's Dreams Are Made
Ruth Porat might be suddenly available for a job that's suddenly not so terrible...at least by comparison.
We've been pretty clear that anyone would have to be a little crazy to purposefully accept the still-open CEO gig at Wells Fargo.
The Stagecoach is still somehow openly thirsting for a woman to come steer it out of the perma-crisis in which it has existed for two years, giving the board chromosomal cover for congressional hearings and drive the bank into a brighter future. That journey is objectively going to suck, and that's a tough pitch to throw at any woman currently occupying the kind of job that would make them ready for a gig like CEO of Wells Fargo.
Except, as of this week, one.
Ruth Porat was the CFO of Morgan Stanley for five years, and has held the same role at Google [we still refuse to call it Alphabet] since May of 2015. In that time, Porat has overseen a dramatic restructuring of the tech titan, creating a multi-pronged entity that manages now hedges its absurd spending against its even more insane revenues. She's also more than doubled its share price. Her leadership in Mountain View has fully re-imagined Google and her legacy as a pioneer of powerful women in tech is solidified beyond debate.
Which is good, because the CFO job at Google is about to suck...very hard.
The government seems to finally be moving on Silicon Valley, initiating the kind of antitrust investigations that have long been thought to augur the dark days of Big Tech. Facebook, Apple, and Google are about to spend years in the crosshairs of Congressional investigations and antitrust litigation, and Google might be the most affected as it is the largest and most diversified big daddy of them all. Simply put, Ruth Porat's professional life is about to resemble a siege. But not even the fun kind of siege.
If you are more of a visual thinker, try this...
Here's Google stock over the course of Porat's reign as CFO:
And here's the last month:
So, yeah, things are...getting worse.
But Porat has a less-than-ideal escape plan.
Wells Fargo's shortlist has been something of an open secret for months and Porat has been on it since the beginning. Back in the olden days of late March 2019, it was absurd to think that Porat would leave Silicon Valley for downtown San Francisco, but times have certainly changed.
The CFO of Google is about to spend the majority of their time with lawyers while shuttling back-and-forth between DC and SF. Repeated public floggings will be commonplace, made even more frustrating by having to explain complicated financial metrics to House members who care only about making a viral video moment happen. Keeping the company afloat and providing cover for the CEO will also be of paramount and exhausting concern.
As the CEO of Wells Fargo, Porat would....not have to worry about the "providing cover for the CEO" part. That's objectively a better job.
Ruth Porat is one of the few people alive with the potency and experience to lead a bank the size of Wells Fargo. And as of this moment, she is the only woman who can honestly say that it's not as bad as the job she has now.