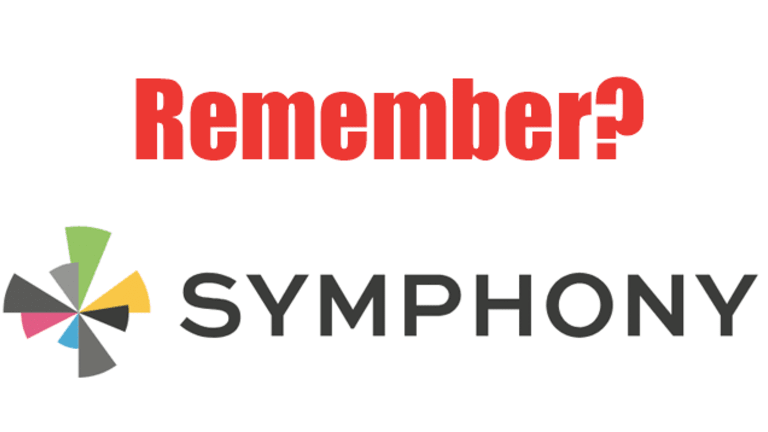 Thing No One Uses Now Worth $1.4 Billion
Good for you, Symphony.
Remember Symphony? The Bloomberg terminal alternative backed by a handful of big financial services companies after the big kerfuffle of 2013? 
No? Well, you're not alone. To be honest, we'd forgotten about Symphony ourselves.  It seemed like the platform had a future after that rash of terminal bashing we witnessed back in the early days of 2016. Since then, it's been pretty much tumbleweeds, and we can't honestly remember the last time someone mentioned Symphony outside the context of "Whatever happened to?"
But, as the old saying goes, what the hell do we know?
Symphony, a messaging platform for Wall Street firms, has been valued at $1.4 billion, according to people with knowledge of the company.

The start-up will soon announce that it raised $165 million from investors to fuel its global expansion, according to the people.
What are we missing though?
Symphony's latest valuation is a relatively modest increase from two years ago, when it was pegged at $1 billion in an earlier investing round. Since then, the Palo Alto-based start-up has more than doubled users to 430,000, exceeding the 325,000 clients of Bloomberg, a data, analytics and news company founded by billionaire Michael Bloomberg.

The reason Symphony's investors didn't value the firm higher was because it hasn't yet reached the phase of runaway growth where its user base doubles year over year, according to the people, who declined to be identified speaking about a private company's valuation.
So, we were half right.
Is anyone out there using Symphony?
Symphony, the start-up taking on Bloomberg's dominance of Wall Street, is now worth $1.4 billion [CNBC]