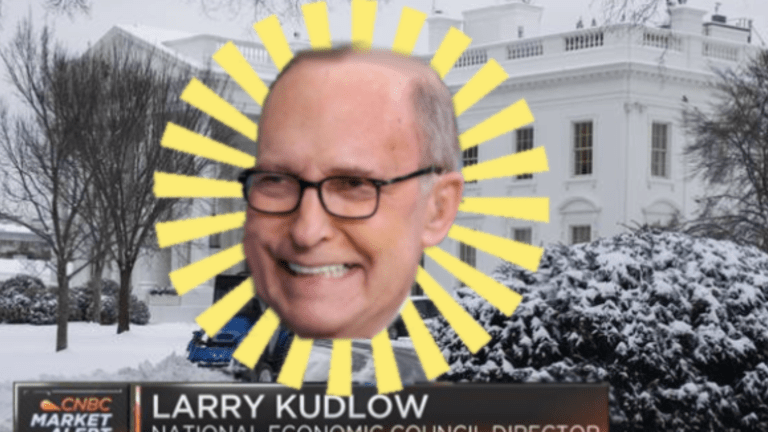 Larry Kudlow Will Not Discuss The Probably Illegal Things His Boss Was Considering Six Months Ago
There are so many more recent examples that he just can't keep up.
At some point during his extended—and ongoing—temper tantrum over the man he made chairman of the Federal Reserve, Donald Trump came to the unfortunate, self-pitying conclusion that he was stuck with Jay Powell. It seemed at the time that this was probably because the lawyers told him he couldn't just fire Powell for not taking direct instructions from the White House on interest rate levels, since the Fed was more or less set up to insulate those decisions from presidential browbeating, not that it hasn't been tried!
But Donald Trump is nothing if not a marketer (and may in fact be nothing except a marketer), so he asked those legal eagles to tool around with rebranding his get-rid-of-Powell plan.
The White House counsel's office weighed the legal implications of stripping Powell of his chairmanship and leaving him as a Fed governor, the people said, in what would be an unprecedented move…. Trump's team conducted the legal analysis and came to a conclusion that has remained closely held within the White House, the people said, requesting anonymity to discuss internal deliberations.
I think we can pretty safely say, closely-held or not, that conclusion was a "no," or Jay Powell would be a mere Fed governor by now and the president would be nominating a cavalcade of people so toxic that even Mitch McConnell's Senate won't confirm them to replace him. Plus, Larry Kudlow all but admitted it.
"It's a six-month-old story," he told reporters. "It allegedly happened six months ago and it's not happening today and therefore I have nothing to say about it. It is what it is."
Anyway, Trump's distracted-dog attention span has moved on to another central bank chief he's mad at, so please just let Kuddles enjoy this breather.
White House Explored Legality of Demoting Fed Chairman Powell [Bloomberg]
Kudlow says the White House is not considering demoting Fed Chair Powell right now [CNBC]